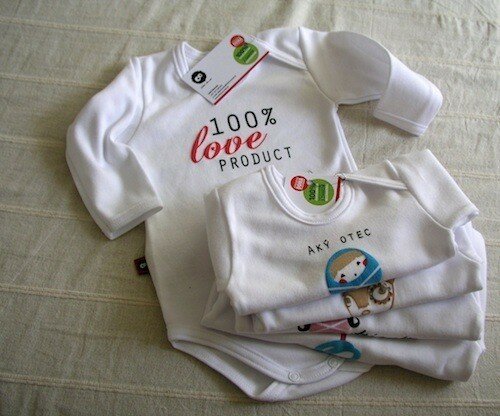 In the last couple of weeks the HumanIPO platform has had new startups pouring in every day. It is also nice to see that quite a few of the entrepreneurs behind the emerging companies are women. Take Little Monster for example. This Slovakian-based company is launching an original kids clothing line, using local proverbs and funny sayings.
The co-founder of Little Monster, Veronika Kročková, is not new to fashion though – she has her own hand-made bag and jewelry line Nikitta for almost 2 years now. As a lot of the woman entrepreneurs, while on maternity leave, Veronika found herself a creative hobby in jewelry…which quickly transformed into a business. And the business started to grow even quicker.
Although Nikkita is not a startup right now, it might also need to be turned into one, because of the fast-growing customer-base and the fact that Veronika currently has only one tailor working for her. "I have only three bags in stock right now, because after I publish them on FB, they are gone within few hours. So I'm thinking of finding investment to hire more tailors," she says.
But back to Veronika's key project Little Monster, which also came to her during maternity leave when she and her designer friend and co-founder Janica Lacova launched the project. Baby and children's clothing with proverbs and funny sayings? There are similar things in the market, surely?
Veronika agrees, but is sure that their line has a lot of advantages. "What makes our clothing line unique and special is the original Slovak design – we use traditional Slovak proverbs and sayings in a funny way. The other benefit is the high quality – durability. The product is absolutely health-friendly for kids thanks to the used technology and colors. Our added value is also the specific personal customer care," lists Veronika.
So where is Little Monster today and what is it lacking? "Currently we are in the process of improving our business model, concept and identity of the brand in order to deliver to our customers unique and special benefits. We are also expanding our product range – preparing new collection with new fresh design and clothes designed also for older kids," promises Veronika. The Little Monster team is also little, but seems to be conclusive right now – besides the mentioned two co-founders, a third lady, Petra Kováčová, is on board, covering PR and copywriting, while Veronika focuses on Sales&Marketing. So, team-members – check. Investment then?
"Generally you are right! We need investments to be able to grow, but very important for us at this moment is building of a contact basis." This need led the Little Monster to sign up for Startup Yard – an accelerator listed on our platform and operating in…Czech Republic.
Apparently the startup climate in Slovakia is experiencing an ice-age of some sort? "Actually there are no projects like startups in Slovakia, or maybe they are, but very well hidden," says the co-founder of Little Monster. "That's why we signed up to the start up program in the Czech Republic. We think Slovak entrepreneurs and young business firms would appreciate such projects also here in Slovakia as there are a lot of creative young people with original ideas."
Want to know what Veronika and other women entrepreneurs had to say about the lack of females in the startup world? Stay tuned for our next blog posts. Meanwhile, go and see what Little Monster and other
startups
have been up to, who has been commenting on who and what our Rainmakers have been suggesting for them to do in order to get off ground.