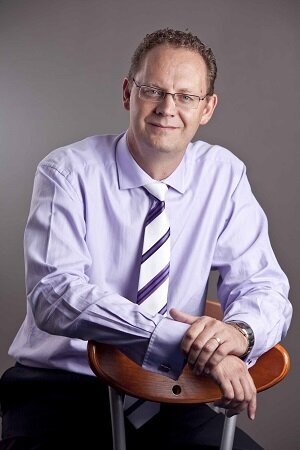 Deon Scheepers, a strategic consultant for Interactive Intelligence EMEA region. Image supplied.
The advent of smart devices has given rise to "smart connected interactions", which has been described as a new sort of customer engagement by Deon Scheepers, a strategic consultant for Interactive Intelligence for the Europe, Middle East and Africa (EMEA) region.
"The rise of smart devices and a focus on customer loyalty has created the proverbial 'perfect storm' for enterprises that want to reinvent the customer service experience around smartphones and tablets," said Scheepers.
"These devices can help solve some of the challenges that have plagued the contact centre industry for more than 30 years," Scheepers added.
"For example, caller identity, intent, and call context (what the customer tried immediately before calling) can be easily and passively established before a call begins. Caller expectations can be better managed, and enterprises can smooth the arrival rate of calls with intelligent, resource aware call-back."
Furthermore, Scheepers said once calls are set up, interactions are able to be augmented by using data services "in parallel to voice" meaning feeding content to a user's mobile phone.
Scheepers said mobile is a "hot initiative" in companies today.
However, the effective collaboration of customer care teams with teams they have not previously worked with and the rapid shifting of the frame and basis of customer engagement are among the largest challenge to the implementation of smart, connected interactions.
"With the consumerisation of customer service communication taking root, implementing a successful customer care strategy means enterprises need to look beyond traditional measures and explore how they can serve the customer on the customer's terms," said Scheepers.
Scheepers said the number of companies supporting SMS, social media, web chat and video together with traditional voice, email and web channels, is growing.
Despite this, however, the most popular channel for engaging with customers is still voice.
With voice remaining the most used channel, Scheepers believes it is safe to say most service environments are reactive, meaning a business does nothing until a customer calls them.
However, Scheepers believes smart devices represent paradigm shifts with regards to how customers relate to companies they interact with.
"Customers' ability to use voice, mobile apps, SMS, email, web self-service, web chat, video and social media to engage with a company through a single device is forcing enterprises to rethink their customer service strategies," said Scheepers.
"The next few years will witness a proliferation of apps on smart devices as they increasingly become the heart of communication between the customer and the enterprise."
Regarding "a new kind of customer engagement" in terms of "smart, connected interaction" Scheepers said it is important to define a new kind of customer engagement.
He believes that from a business perspective it makes sense because it allows for more careful allocation of resources as well as better returns on potential sales opportunities.
"Once a company moves beyond offering a straight up voice call, it needs to track more ambitious metrics such as customer value, transaction value, churn, customer longevity, and sales opportunities converted.
"Better measurement contribute to the continued delivery of better service throughout the customer's lifecycle. Thus the key to customer service in a mobile world is to focus on those customer interactions that have context relay to the enterprise," concluded Scheepers.