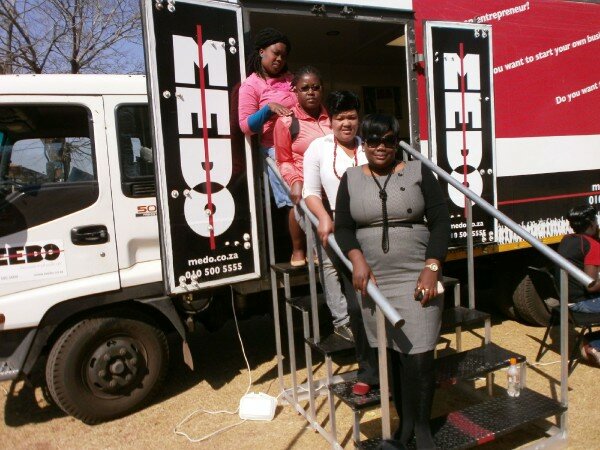 The MEDO group at the mobile office Treppie.
The Micro Enterprise Development Organisation (MEDO) will kick off next week, aiming to promote job creation in the Western Cape.
In partnership with The City of Cape Town, MEDO will begin a nine day tour across Cape Town neighbourhoods in the search for entrepreneurial talent.
Selected individuals with the ambition to take their small businesses to the next level will be provided with training programmes to grow their businesses.
Judi Sandrock, chief executive officer of MEDO, said: "By assisting like-minded entities such as The City of Cape Town, MEDO is able to implement programmes such as this that take grassroots entrepreneurs with small enterprises and mould them into sustainable businesses able to create long-term employment in their communities."
Starting in Ikhaya Le Langa Quarter on August 15, the MEDO mobile office, called Treppie, will tour across seven destinations in search for exceptional talent.
Other areas to be visited include Mitchells Plain on August 20 and final destination Kraaifontein on August 24.
Councillor Garretth Bloor, mayoral committee member of economic, environmental and spatial planning, said: "We are taking the tour to areas that need the entrepreneurial support, areas where we could make the greatest impact on the communities we visit."
Looking forward to the trip, Sandrock values the opportunity to "truly advance both their businesses and lives".