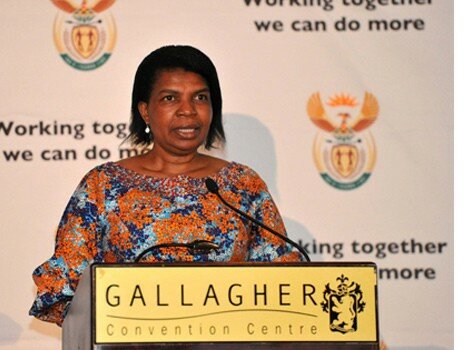 South African communications minister Dina Pule. CC image courtesy of GovernmentZA on Flickr.
The Democratic Alliance (DA) has called for the immediate suspension of South Africa's disgraced former communications minister, Dina Pule, following the revelations she was allegedly involved in an assassination plot against politicians investigating her conduct.
HumanIPO reported earlier today the recently concluded parliamentary investigation into Pule's conduct had allegedly brought fierce attention from Pule and her boyfriend, Phosane Mngqibisa, who are accused of being involved in an assassination plot to murder Ben Turok, the African National Congress (ANC) member of parliament (MP), who led the investigation and Fazela Mohamed, parliament's registrar of members' interests.
Watty Watson, chief whip for the DA, said: "The DA calls on the chief whip of the ANC caucus in parliament, Stone Sizani, to suspend former communications minister, Dina Pule, immediately, subject to the outcome of an investigation into allegations that she is threatening the safety of other members of parliament and parliamentary personnel."
Watson added that if Pule is not suspended immediately, the DA will then push for her suspension during the next chief whips forum, set to commence on August 15.
Regarding the revelation of the assassination plot, Watson said: "These are serious allegations which must be investigated. Dina Pule should be suspended from parliament, and the Portfolio Committee of Transport, until such an investigation is finalised."