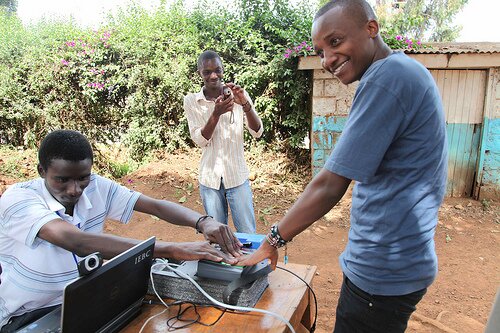 CC image courtesy of USAID Kenya on Flickr
The Kenyan government has now called out on the private sector to help it fund the one laptop per child initiative for all class one joining students in Kenya.
Jacob Kaimenyi, cabinet secretary for education, was speaking at an ICT Integration Forum on Monday when he said the flagship project requires a lot of funding in order to realise a transformed learning system for Kenya's children.
"I am alive to the fact that integration of technology in the curriculum requires huge financial outlay which government alone is not able to provide," Kaimenyi said, reported Capital FM.
"For this reason, we recognise the vital role of the private sector in complementing the government's efforts in ICT infrastructure development. I take this opportunity to ask you to support the ministry in the implementation of this unique programme."
Kaimenyi reiterated that introduction of technology will allow learners to compete with the world in innovations and assured the government will enact policies for its full realisation.
"It should be noted that the world is changing fast and we are left with only one option; to keep up with the pace of change or be rendered obsolete," said Kaimenyi
He went further to assure that the bidding process will be fair to all applicants after the government advertised bids for the provision of laptops, printers and projectors for all its public schools.
With the start of the next school calendar year looming in which the government is expected to have rolled out the laptop project, the National Treasury secretary Henry Rotich ordered Kenya's electoral commission to surrender 45,000 laptops used in the March 4 election to the Ministry of Education.
The gadgets are to be used to train teachers after the ministry launched the ICT Integration Harmonized Curriculum Guide aiming to impact public school teachers in capacity building of ICT.
However, the Independent Electoral and Boundaries Commission (IEBC) has resisted, saying it can only release the computers if the correct transfer of assets procedures are followed.