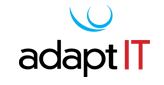 IT services and production company Adapt IT will look to reinvest its increased revenue to expand its presence outside of its base in South Africa.
The company announced on Monday its revenue rose by 36 per cent to ZAR306 million (US$36 million) in the year up to 30 June.
Sbu Shabalala, chief executive officer (CEO) of Adapt IT, said: "Under challenging market conditions, Adapt IT has delivered another strong financial performance in 2013 through the continued implementation of a sustainable growth and diversification strategy".
Seventy-seven per cent of this revenue came from South Africa, with only 19 per cent coming from other African markets.
Adapt IT lists expanding its market presence in these other markets as a priority. A major part of this will be to acquire successful IT businesses.
Shabalala said: "During 2013, we have significantly improved our service and product portfolio and are strategically positioned to grow business in differentiated sectors, markets and geographies".