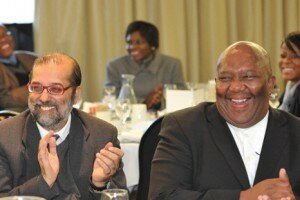 South Africa's communications minister Yunus Carrim (left). CC image courtesy of Flick.
Rosey Sekese, South Africa's department of communications' director-general, will be continuing in the role after minister Yunus Carrim seeked to draw a line under the ongoing saga in front of the communications portfolio committee.
Sekese was placed on special leave by former minister Dina Pule in December after misleading parliament's communications portfolio committee about her performance contract.
The director-general then tried to return to work in April, but was supposedly locked out of her office and the police were called to the building.
The Sekese issue was one of many problems facing the new communications minister Carrim when he replaced Pule in July, and he has said he has found her to be "extremely hard" working since he arrived.
Carrim said Sekese will remain in her position and he is currently assessing what roles and powers she will hold.