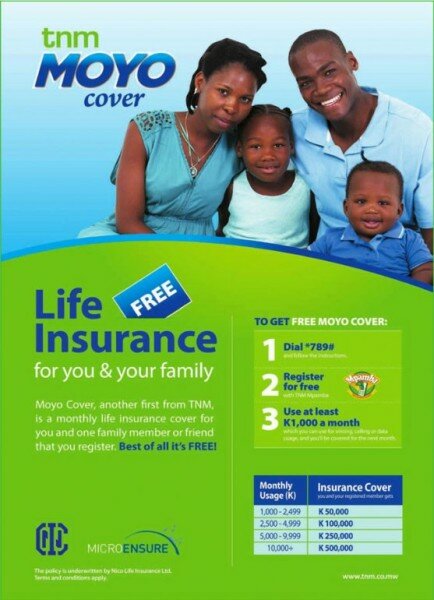 Telekom Networks Malawi (TNM) has launched free life insurance cover known as Moyo Cover for its customers in a bid to help ordinary Malawians access insurance.
According to MicroEnsure, less than 2 per cent of Malawians have life insurance cover since products are not easy to understand given their complex claims processes, which results in many people lacking confidence in insurance.
Additionally, insurance is often prohibitively expensive as companies are not well suited to serving low end customers.
Powered by MicroEnsure and underwritten by NICO Life Insurance, the programme is seeking to address both issues with its zero cost and simplicity.
Speaking at the launch of Moyo Cover, Daniel Makata, TNM's head of division – innovations, said: "Any TNM subscriber under Mpamba Mobile Money service can register and with not less than MWK 1,000 TNM airtime usage per month, one can get an insurance cover. "The more they use, the higher the amount of cover claimable."
With the cover subscribers will earn varying amounts of life insurance coverage depending on their airtime usage in the previous month.
"TNM's Moyo Cover delivers simplicity and is accessible to everyone in Malawi at no cost, which does not happen with other ordinary life insurance cover," said Johan Van Schalkwyk, chief operating officer (COO) at NICO.
"It offers solutions to risks Malawian's face and people even in rural areas can access life insurance for the first time. The service will ensure that people now have time to focus on developing their lives without worrying about costs associated with life that is not covered by insurance."