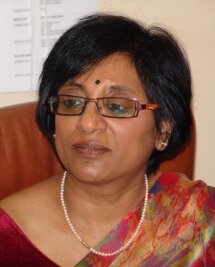 Sandy Kalyan, DA deputy chief whip.
South African opposition party the Democratic Alliance (DA) has said the ruling African National Congress (ANC) must apologise over "fallacious" accusations made against DA member of parliament (MP) Dianne Kohler Barnard.
ANC chief whip Stone Sizani last week accused Kohler Barnard of "transgressing the ethics code" and "[violating] her oath of confidentiality and the ethical code of conduct by disclosing sensitive information to her friends on social media" during former communications minister Dina Pule's hearing.
The DA subsequently accused Sizani of making false accusations.
Sandy Kalyan, DA deputy chief whip, has now called upon Sizani to apologise for his comments, which she said were based on a column in The Post.
"Stone Sizani's accusations have turned out to be nothing more than hot air designed to cloud the Dina Pule scandal, just as we suspected," Kalyan said.
"The journalist who authored the column, has confirmed that she never received any information from Ms Kohler Barnard regarding the confidential deliberations by the Ethics Committee during the Dina Pule matter, via social media or any other outlet."
She said Kohler Barnard had said her comments were "misinterpreted and taken out of context" by the ANC.
The DA has also demanded the ANC "withdraw the comments and statements made tarnishing her (Kohler Barnard's) integrity and reputation" and "disseminate this apology and withdrawal to the identical media database that their media statement containing these claims was sent to on 22nd August 2013".
It also called upon the ANC to "refrain from further unsubstantiated comments of this nature".