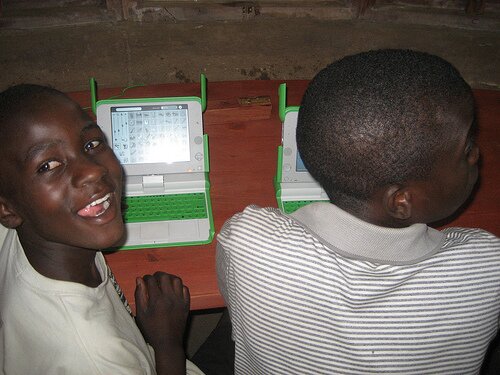 CC image courtesy of Lubuto Library Project on Flickr
Kenya's primary school headteachers have declared support for the government's one laptop per child initiative, saying the issue is "not if, but when will it commence".
Led by the Kenya Primary Schools Head Teachers Association (KEPSHA) national chairman, Joseph Karuga, the teachers said integration of ICT in primary schools will boost the learning environment and equip pupils with adequate skills.
Kenya's President Uhuru Kenyatta meanwhile has declared the preparation for the rigorous, cost-effective and accountable procurement of laptops is already underway, moving the implementation of the school laptops programme closer to its realisation.
The president urged all school heads to update their capacity to implement a technology-based curriculum as government rolls out the laptop programme.
He emphasised the government's determination to raise a generation of Kenyans who will be equipped at the earliest possible point in their lives with globally competitive competencies.
He also reiterated that it will give Kenya the edge it needs in innovation, service and industry to lead the region and continent.
"The transformation has begun, and there is no looking back. It is taking place in the classroom, we are serious," Kenyatta said.
He pointed out that the laptops will usher in an era of interactive, student-centred teaching that will free teachers to mentor pupils and perform their core educational roles.
The laptop programme is also expected to bring electric power connection to many primary schools in the country for the first time.
"As far as child friendly initiatives go, nothing promises greater gains in our time," Kenyatta added.
"The laptops usher in new beginnings and an enormous birth. Please embrace them."