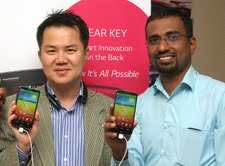 Josep Kim, the Managing Director of LG East and Central Africa (left) and Mr. Leney Varghese, the Manager Sales and Marketing, Mobile Division of LG East Africa (right)
LG Electronics has introduced the LG G2 in the East African market in a bid to compete with its Android rivals.
The device, which will be available in Kenyan shops from the last week of October, is the first smartphone handset without side buttons.
The concept came from research which revealed the larger smartphones became, the harder it was for users to access side keys.
The smartphone has been billed the most ambitious device in the company's history by Jong-Seok Park, president and chief executive officer (CEO) of the LG Electronics Mobile Communications Company.
"Our definition of innovation today is technology that truly resonates with consumers," said Josep Kim, LG managing director for East and Central Africa.
"Based on LG's research of consumer lifestyles and behaviors, the smartphone offers users more real-life benefits such as ergonomic design, practical functions and an intuitive user experience."
The 5.2-inch full HD display phone will run on an Android operating system and retail at KSh60,000 (US$685).
Some of the notable features on the G2 include a 13-megapixel camera equipped with Optical Image Stabilizer (OIS) technology to prevent blurring, Android 4.2.2 operating system and a vivid 1080p HD display, Super Resolution and Multi-point AF to help keep everything in focus and the unique volume rocker and power button located at the back.
In addition, the G2 is the first globally available handset to have Qualcomm's lightning-quick Snapdragon 800 processor.
LG Electronics believes that the new design can help it dethrone other mobile phone manufactures in smartphone market.
Speaking to HumanIPO on the sidelines of the event, Kim said the company is planning to launch the LG G Pad 8.3 in January.
The first full HD display tablet was recently launched at at the IFA 2013 trade show in Berlin.