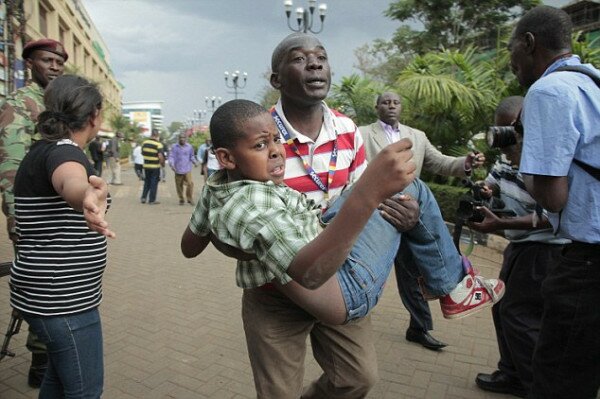 A child is carried away from Westgate Mall after the attack. Cc image courtesy of DurDurNews on Flickr
A website has been launched in Kenya allowing users to upload messages, pictures and videos preaching unity and togetherness in the wake of the Al-Shabaab attack on the Westgate shopping mall, in which more than 60 people died.
#WeAreOne allows users to post or view messages posting national unity and strength.
"Sometimes are difficult – but remember – times will change. Keep your head up and heart open to better days. Use the power in words to uplift others," the site says.
Messages on the site include:
"Kenya is one I am Kenya I will never be divided, together no tribe no ethnic group I speak as on #Kenya for all," Qaras wrote.
Collins Obura wrote: "There is no dawn without a night, no victory without a fight, there is no rainbow without the rain, there is no happiness without pain."
"Having been born in Kenya, hasn't made me Kenya; living among the people of Kenya, made me Kenyan. #WeAreOne," wrote Abdifatah Yussuf Mohamed.
The #WeAreOne hashtag has also been trending on Twitter and Facebook, with Kenyans taking the time to celebrate those who took part in the security operation and to criticise Al-Shabaab in addition to calling for the closing of the group's Twitter account.