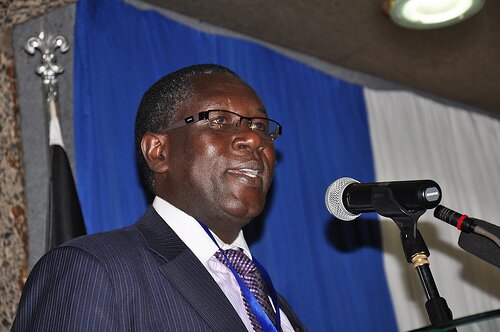 CCK Director General Francis Wangusi CC image courtesy of chimgimode2007 on Flickr
The Communications Commission of Kenya (CCK) wants to introduce guidelines to tighten web usage and discourage the misuse of social media and spread of hate speech in the wake of the Westgate mall attack.
Francis Wangusi, director general of the CCK, said the regulations will discourage the irresponsible use of internet platforms such as Facebook and Twitter.
Wangusi said apart from social media sites being used to spread hate speech, they have become platforms for terrorists and their sympathisers to "glorify their cowardly acts of killing innocent people".
Speaking during the closing of the 2nd African Internet Governance Forum, the director general cited the Westgate attack as an example, with Al-Shabaab and other terrorist groups continuing to use the internet to spread fear and advance criminal activities.
During the forum Fred Matiangi, cabinet secretary for ICT, said the use of social media has moved away from its intended purpose.
Wangusi said the guidelines are being prepared in close consultation with stakeholders and are at an advanced stage.
"It has been a challenge to control social media sites used by Al Shabaab because their internet protocol (IP) addresses are not hosted in Kenya," he said.
He recommended that future internet governance forums should address the hosting of social media sites and possibly recommend that individual countries be given the sole right of IP hosting so they can effectively regulate internet use.
The Wangusi comments come days after the regulator announced the demise of Peter Ldhituachi Simani, a director on the CCK board of directors, who was killed during attack at the Westgate shopping mall.