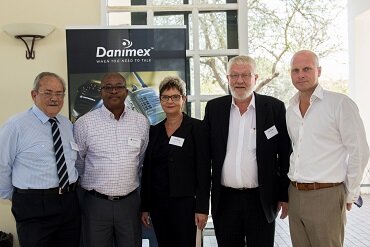 Johan van Zyl, Brauce Kau, Jytte Kaufmann Thomsen, Egon Bruun, and Henrik Asbjørn. Image supplied.
Motorola Solutions expects growth in the Sub-Saharan Africa region due to a new partnership it has entered into with Danimex Communications, a Denmark-based company.
Motorola is a leading provider of mission-critical communications solutions and has appointed Danimex to distribute its two-way radio communications equipment and solutions in South Africa as well as the Southern African Development Community (SADC) region.
Danimex's new subsidiary is based in Bryanston, Johannesburg in the Gauteng province and will serve as a regional warehouse, service and support hub, thus stock will available via warehouses in Johannesburg, Dubai, and Denmark.
Danimex has also established regional service and support hubs in Kenya and Nigeria.
"The distribution agreement brings to the South African market an alternative, and presents new opportunities for us to grow our market share," said Bruce Kau, regional sales manager for southern Africa.
Kau added: "Business is no longer about dropping boxes – service, support and loyalty to clients are equally important now."
Egon Bruun, chairman of Danimex International said Danimex goes to market exclusively via its reseller partner channel, therefore its model is strongly focussed on logistical and marketing training and support for its channel partners.
"As a communications product specialist with over 22 years' experience across African markets and decades of experience with Motorola Solutions, Danimex is able to bring to the South African and SADC region much needed expertise," said Bruun.
Johan van Zyl, the general manager of Danimex South Africa said the company's model is supportive of partners, regardless of the size, and is seeking to further expand its partner channel.
"The new distribution agreement therefore paves the way for even smaller resellers to resell Motorola Solutions' award-winning products and broaden their business base," said van Zyl.