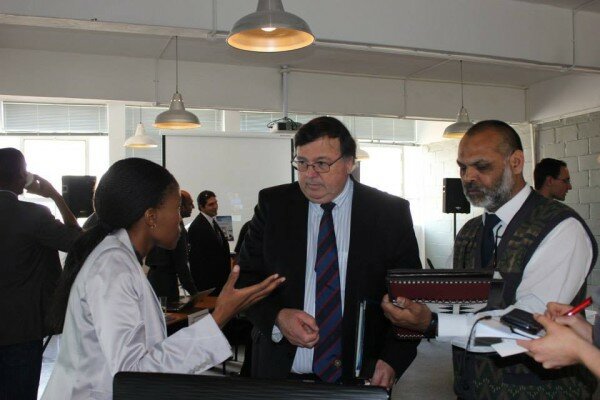 Donald Grant, Western Cape Education minister, and Osman Sadeck, chief Education specialist (CES): e-Learning at the Western Cape Department of education. Image courtesy of Bandwidth Barn.
Western Cape minister of education Donald Grant said he is impressed by local startup solutions, emphasising the need for innovation in education.
Local tech startups offering innovative solutions for classroom integration to assist education in South Africa pitched their ideas to affiliates of the Western Cape Department of Education this morning at the Bandwidth Barn, Cape Town.
"I am blown away," Grant said.
He encouraged the startups, saying they are creating solutions which address real needs.
Grant said there is a "broad direction" within the department to include innovation for the improvement in education.
Aiming to equip the teachers to provide "high pedagogical…solutions", he believes education should guide learns how to "read right, write creatively" and eventually think in such a way as to lead in innovation.
Osman Sadeck, chief education specialist (CES): e-Learning said: "Western Cape Education is on the road of innovation."
He believes people who innovate will drive change as "tapped into needs" by addressing it with accessible solutions.
Grant showed interest in ReKindle Learning, an adaptive mobile learning platform, mentioning a possibility of visiting areas where it is being used.
Marius Conradie, executive head of divisions mHealth, mServices and Innovation at Vodacom, told HumanIPO the operator is looking to support mobile solutions in providing services to assist in the startups' operations.
Other startups represented were mobile learning platform Where2Learn, online assessment tool Qurio, language app Aweza, digital teaching equipment kit BlueM8trix,The School of Entrepreneurship Trust, the Go Metro app and tutor platform tutorwALL.