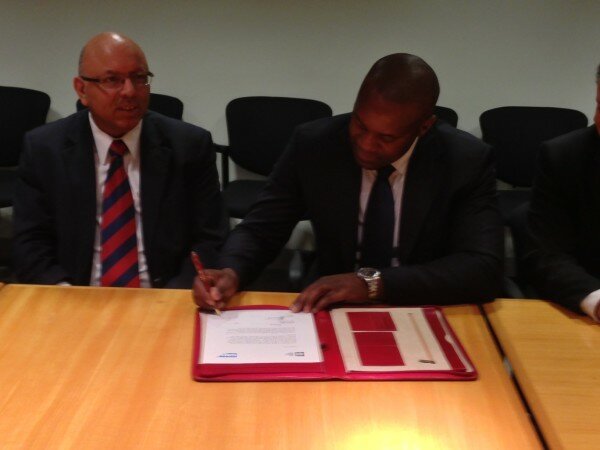 Signing of MoU World and and SAP
SAP Africa and the World Bank have signed a memorandum of understanding (MoU) to develop a framework for collaboration on skills development on the continent.
The agreement was inked by SAP Africa's chief executive officer (CEO), Pfungwa Serima, and a World Bank representative and is part of a series the chief executive is attending in the USA focused on refining synergies between its African operations and the African objectives of the World Bank.
According to the MoU, the first phase of the skills development initiative will start later in the year and shows SAP's commitment to the development of ICT skills in Africa after another launch of the "Skills for Africa" programme earlier in the year.
Skills for Africa, launched in May 2013, focuses on building the skills needed for employment as well as offering qualified ICT students with internship positions.
"SAP recognises that promoting education and training is one of the best ways to improve the problem of chronic youth unemployment, an issue affecting the technology industry as a whole," said Serima.
He said the development of skills will go a long way to improving the continent's human resources for the sector, a major challenge for investors in Africa.
"With growth and the scarcity of skills on the African continent a prominent issue on our mind, we anticipate that our collaboration with the World Bank will amplify our efforts to develop world-class IT and business skills and give Africa's youth an opportunity to play a role in contributing towards Africa's future economic growth and infrastructure development."
The World Bank said through development of ICT skills Africa can develop the needed generation of IT professionals and help fight poverty and promote shared prosperity.
"The World Bank has a long-standing commitment to promoting innovative educational and technology-driven programs," the organisation said. "We recognise that SAP is one of the global innovators in ICT, and is undertaking efforts to ensure a well-trained, effective African ICT work force."
While in the US, Serima is also expected to attend the Council on Africa's 2013 U.S.-Africa Business Summit that brings together more than 1,500 business leaders and ministers "that reaffirms SAP's commitment to strengthening educational and entrepreneurial capacity across the continent".