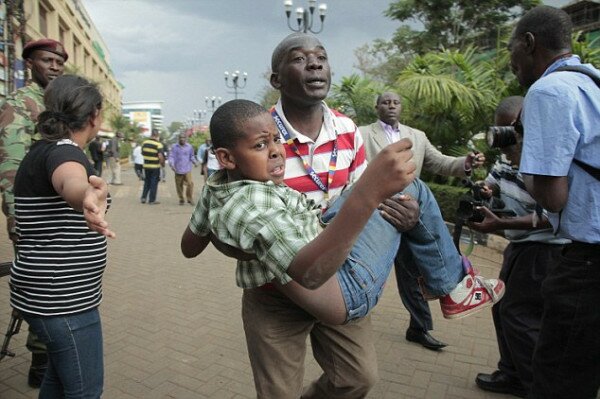 A child is carried away from Westgate Mall after the attack. Cc image courtesy of DurDurNews on Flickr
Philip Smerkovitz, managing director of TeleEye South Africa (PTY), has claimed though it is doubtful security cameras could have prevented the Westgate Mall attack in Kenya, the company's surveillance system could have provided critical intelligence on the terrorists.
Sixty-seven people died and hundreds more were injured when an armed group, claimed to be members of Al-Shabaab, raided the popular mall and took hostages for three days, in September.
Asked by HumanIPO if security cameras could have prevented the attack, Smerkovitz said: "Doubtful as the mall was well planned and targeted, but there is no doubt that if the mall was equipped with a remote TeleEye surveillance system then critical intelligence on the description and actions of the terrorists could have been provided via live streaming to law enforcements and military units."
He said securing malls and other public places could be challenging, but technology could help in identifying perpetrators.
"Securing public places always has its challenges," Smerkovitz said. "During public access times the use high resolution cameras for identification purposes can assist in identifying perpetrators.
"Video analytics can assist with behavior identification. Integration of a video alarm and panic system can ensure that tenants and public can alert security officers at times of threat. At lock down times using video alarm verification ensures protection of the sites after hours."
Concerning the relative ease with which security cameras could be identified and destroyed, he said there is a wide range of protective measures.
He said: "Different grades of housings are available. We offer models with vandal resistant housing and toughened poly carbonate covers.
"Cameras should also be mounted carefully out of reach of vandalism and theft. Custom blast proof cameras with specialised housings are available."
Determining where to discretely place security cameras he said requires the specifications of the site.
"This has to be designed according to the site specifications, available mounting positions and out of reach of criminals. It is not ideal to keep cameras out of the eyes of criminals as they offer an excellent deterrent value," he said.
He said future security cameras would be more affordable and the rate of deployment would significantly increase.
"[Security cameras] are becoming more affordable we expect to see higher deployment of technology. With improvements in technology cameras will now become popular in areas other than security such as automation, production, process control," he said.