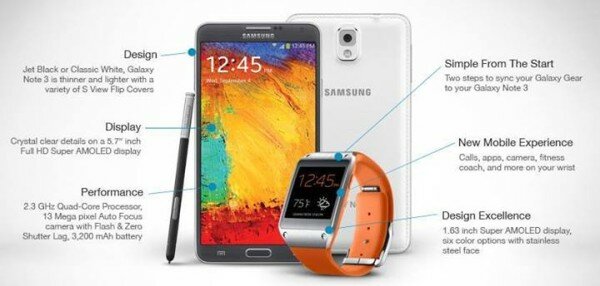 The Galaxy Note 3 with the Galaxy Gear.
Samsung Electronics East Africa has launched the Galaxy Note 3 in Nairobi, following launches in Ghana and South Africa.
HumanIPO reported yesterday on the launch in Ghana, available with Samsung Premium, an advanced version of the company's original 24-month accidental damage from handling (ADH) warranty.
The Samsung Galaxy Note 3 and Galaxy Gear will cost KSh79,000 ($918), although Samsung says it is yet to ship the smartwatches as the regulator has to place it in a tax category.
Speaking during the launch event Samsung's East Africa chief executive officer (CEO) Robert Ngeru said the gadget will help users shape their lives through inclusion of innovative features into daily routines through dynamic and seamless expression of their passion.
The gadget has a 5.7-inch screen, and according to Ngeru is a result of the optimism that consumers have shown in the company's devices since the introduction of the Galaxy Note two years ago
"We introduced the original Galaxy Note in 2011 and launched a whole new smart device category. The undeniable success of the Galaxy Note strengthened our conviction that consumers want higher quality features for smart devices and they want those new features to make their lives better," he said.
Meanwhile Samsung has expanded its accidental damage warranty to include three extra elements – ADH, smart value and smart swap.