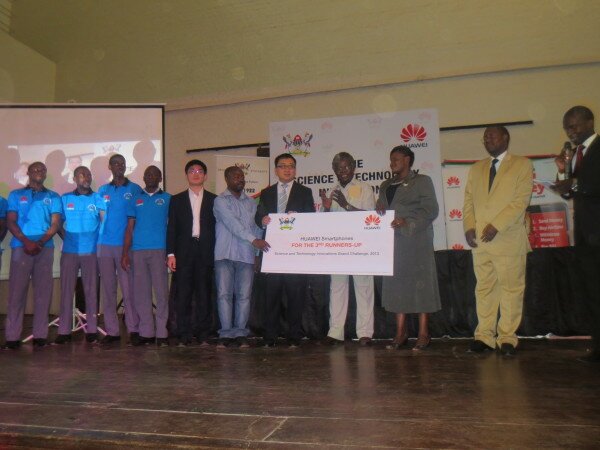 Huawei Awards E-lab to the 2013 Makerere Innovation Challenge Winners
Huawei has presented an E-lab to the winner of the innovation challenge organised by Uganda's Makerere University under the [email protected] project, which asked students to present innovations involving the use of robots and engage in mobile phone disassembling and reassembling.
The winner, a hybrid pitch demarcator by Dr Obote College Boroboro, presented a robot that utilises multiple energy sources to automatically demarcate pitches, roads and parking yards, and received 20 computers and 15 Windows smartphones courtesy of Huawei.
The robot runs on a custom programme that has the relevant topographical and other pertinent information to the area being demarcated.
According to deputy director of Huawei Uganda Zhang Zhiheng, the company is committed to the development of local talent through knowledge transfer.
"At Huawei, we are passionate in efforts geared towards supporting education and developing local talents," said Zhiheng. "We embrace opportunities of partnering with the government, our customers, and institutions of higher learning in projects which are improving the innovativeness of the local youth.
"Such investments through knowledge transfer, bridging the digital divide are not only our CSR strategy as a global ICT leader, but more of an obligation for us in an effort to transform Uganda into a digital economy."
The innovation challenge, which is in its third year, targets engineering design clubs, equipping them with hardware and software as well as training them to design and prototype meaningful robotics and electronics applications.