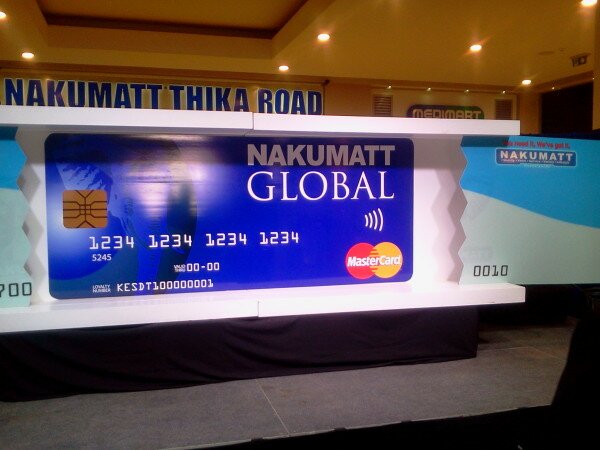 Kenyan supermarket chain Nakumatt Holdings has released the Nakumatt Global MasterCard prepaid card, in partnership with MasterCard, Kenya Commercial Bank (KCB) and Diamond Trust Bank, at Nairobi's Thika Road Mall.
HumanIPO reported yesterday on the launch of the EMV card, which marks the replacement of Nakumatt's cybercash loyalty smartcard.
Payment of bills, insurance products, cash withdrawal, cash deposits, FOREX trade exchange and money transfer services will now be available at Nakumatt tills as customers pay for their shopping, while users can also earn smart points at any of the over 35.9 million acceptance points.
Meanwhile, the already existing Nakumatt smartcards will however continue accumulating points for all purchases, before acquiring the new multi-currency card.
"At Nakumatt, we have managed to integrate a most advanced payment Gateway switch linking us with other financial service providers to facilitate the robust delivery of a number of financial services and products," said Nakumatt Holdings managing director Atul Shah.
KCB chief executive officer (CEO) Joshua Oigara said: "This trend to embrace cashless transactions and interactions is a welcome platform that will accelerate innovation, enhance efficiency and create an excellent customer service experience across our regional network. We are proud in partnering in the process of bringing it to pass."
Nasim Devji, group CEO and managing director of Diamond Trust Bank, was also in attendance and pointed out progress in working towards Kenya's Vision 2030 by launching the card. He said it was the only way to provide the population with a functional product or service that provides an incentive for cashless payments.
The card will be available from all Nakumatt outlets and also from selective branches of the partnering banks, beginning with Kenya before proceeding to other East African regions.
Since the launch of Nakumatt smart cards ten years ago, the number of customers with cards has risen to over one million.