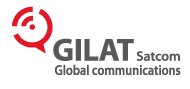 Gilat Satcom has announced that it has established a new point of presence (PoP) in Ghana aimed at providing reliable, high-speed, cost effective broadband connectivity over fibre to network operators, internet service providers (ISPs) and businesses in the country.
The PoP is directly connected to Ghana's existing fibre network using MPLS as well as the West Africa Cable System (WACS), which has a landing station in the country and in which Gilat Satcom is a shareholder.
According to Gilat Satcom chief executive officer (CEO) Dan Zjicek the move will lead to more speed and capacity in the West African country.
"We are investing heavily in both our fibre and satellite operations throughout Africa. We are known for providing fully-redundant extremely stable broadband networks with excellent QoS and competitive pricing," he said.
"This expansion of our service in Ghana will increase both capacity and speeds."
Through the establishment of the PoP Gilat Satcom, which offers both satellite and fibre-based communication in Africa, Asia and the Middle East, hopes it can play a more pivotal role in the West African internet space.
Prior to the PoP in Ghana the company had another in Sierra Leone through a 7.3m satellite dish linking the country to the rest of Gilat Satcom's transcontinental satellite communications network.
Apart from Gilat Satcom other companies with PoPs in the region include the Main One Cable company and Sky Vision, both of whom have set up PoPs in Nigeria.