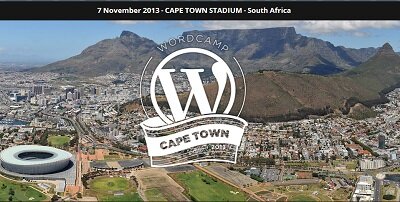 The WordPress WordCamp is set to take place in Cape Town on Thursday, bringing together hundreds of people from a variety of professional backgrounds. HumanIPO caught up with Hugh Lashbrooke, a developer at WooThemes, who is heading the organising team for WordCamp.
HumanIPO: How would you describe the success of the previous WordCamp events?
Lashbrooke: There have been three WordCamps in Cape Town to date and they have each been very successful. The previous organiser, Ashley Shaw, did a great job in getting the WordCamp movement off the ground in Cape Town and he organised some solid events – the community really enjoyed them and they really helped to solidify WordPress in Cape Town, which is what we have been working hard at doing even more this year.
This year, we're stepping up the scale of the event somewhat by having more attendees (400) in a more prestigious venue, [the] Cape Town Stadium – this should allow us to do a lot more with the event than has previously been done.
Who is the WordCamp aimed at, and what can the attendees look forward to during WordCamp 2013?
The general theme for this year's WordCamp is 'The Business of WordPress'. To stick in line with that we're going to be looking at some local businesses that operate solely on WordPress as well as having a number of talks about running various types of websites on the platform.
Attendees can look forward to inspiring sessions as well as a fantastic opportunity for networking and getting to know their fellow WordPress enthusiasts. The event is aimed at anyone who has even a passing interest in WordPress and it will be suited to entrepreneurs, business owners, developers, designers, bloggers, and anyone else who is interested in online publishing.
How many tickets are available and how many people have already purchased tickets?
There are currently 134 (at the time of writing) out of 400… still available for WordCamp. Tickets are priced at ZAR350 (US$34.45) – that includes all 10 sessions, amazing food and coffee, secure parking at the venue, WordCamp T-shirt, and entrance to the after party. You can book your tickets here.
In terms of the sessions, what can attendees look forward to?
We have three international speakers, one from Johannesburg and the other six from right here in Cape Town. The speakers are all absolutely top notch and all the sessions are going to be fascinating and inspiring no matter how deep your knowledge of WordPress is.
You can see the complete schedule here and find out more about each speaker here.
How do you fit in with WordCamp and what are you personally looking forward to at the event?
I am a developer at WooThemes and I am heading up the organising team for WordCamp. When we heard the previous organiser was stepping away from WordCamp, we decided we would move in and pick things up.
Myself and a group of my colleagues started managing the WordPress community for 2013, ultimately leading up to WordCamp. Personally I am looking forward to meeting some of our community members and spending time finding out what makes them so passionate about WordPress. On top of that I can't wait to hear all of the talks for the day…
Another thing to take note of is this year's WordCamp we're going to be taking donations and collections from African Trails' Santa Paws campaign. All in all WordCamps are far more than a normal tech conference and WordCamp Cape Town 2013 promises to [deliver] the complete experience that WordCamps around the world are famous for.