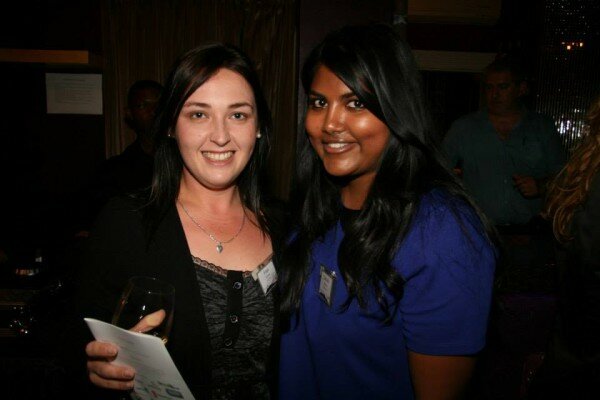 Francis Grove, one of the night's prize winners, with Suhaifa Naidoo, chairperson of GGDCPT.
Girl Geek Dinners Cape Town (GGDCPT) held its end of year celebration at Cafe Chic last night, with the organisers already placing the emphasis for 2014 on attracting more members from local schools.
The international initiative, which has popular branches in Cape Town and Johannesburg, aims to provide a vibrant networking arena for women working or interested in the technology sector.
Both South African chapters have been in operation for around two years now and during 2013, Suhaifa Naidoo, chairperson of the Cape Town group, began connecting with schools and universities in the area.
"I knew we had to steer the dinners in a different direction and our goal for 2013 was to introduce younger girls in high school and universities to not only the Girl Geek Dinners, but also show them that the tech industry is not as male dominated as one may assume," Naidoo told HumanIPO.
"There are amazing women out there who are doing amazing things and working on innovative solutions for emerging markets such as Africa."
Naidoo plans to take this approach even further next year by taking the actual events themselves into schools and host interactive workshops with the students.
"We want to show them how to create a LinkedIn Profile, a Twitter Account and really introduce them to the online world so that they know the options available to them when they start thinking of career paths," she said. "This is a difficult thing to do because you need buy in from the schools and parents."
Girl Geek Dinners Cape Town is also hoping to attract more "hardcaore techies" next year, such as programmers, solutions architects and engineers.
Naidoo added: "We know there are tons out there and now we just need to see them at the dinners."