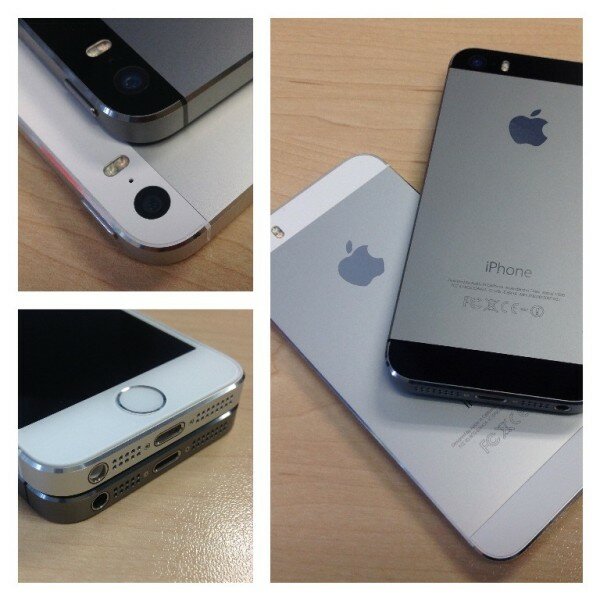 The iPhone 5S. Image courtesy of Bandwidth Blog.
Apple's iPhone formula has been going for quite some time now – the first one arrived in 2007, and the 3G model landed in South Africa in 2008. Apple has clearly had an evolutionary design theme with the iPhone, and the latest 5S model continues the tick/tock update methodology. It might look almost identical to the iPhone 5, but on the inside it is a major step forward.
The Bandwidth Blog's Minnaar Pieters ordered the 5S on Friday, and on Monday morning Vodacom's courier partner arrived with Apple's latest phone. Below, Pieters shares his thoughts on the technology giant's latest flagship product.
Body
Yes, it looks the same as the 5 – but customers have gotten used to the idea of Apple's "S" phones, so there is less complaints this time round about Apple "not being innovative" because it does not look different. The one advantage to Apple keeping case designs around longer is that any iPhone is instantly recognisable. Oh, that and iPhone 5 cases work fine with 5S.
You would be hard pressed to see the differences between the 5 and the 5S – you will notice a new home button with a metal surround, and a slightly different camera flash design. From there the differences are really tiny, with a slightly bigger lens, and some new colour options.
While all the focus has been on the new Gold colour (actually more a champagne shade), we love the look of the new "Space Grey" colour. It is more a gunmetal shade than black, but I suspect Apple wanted to be politically correct and instead just called it Space Grey. The new Space Grey seems to be tougher than the previous black version as well – we do not notice as many scratches forming on the space grey models.
We have now spent time with all three colours – the Gold is really good looking in person, and photos do not do it justice. The white model still looks closest to a piece of fine jewellery, with chamfered edges which look great. We still suspect the darker model will sell the best.
The body is made from the same aluminium back as the 5, with glass inserts. While incredibly light, I kind of miss the heft of the older stainless steel iPhone 4 and 4S. The aluminum body also seems to pick up small scratches easier than the older stainless steel models. But it exudes quality, and is still the gold standard in overall fit and finish. (The only phone that maybe comes close is the HTC One).
Screen
The screen is identical to the older 5, and sticks to the same dimensions as well. The big trend in the last few years is the ever increasing screen sizes. The trend seems to have been started by Samsung, but now every major smartphone manufacturer has followed suit with 5 inches and up screen sizes. The only holdout on the mega screen bandwagon right now is Apple.
Apple can keep on claiming the benefits of how their screen size is easier to use with one hand (a benefit I like as well to be honest), but I believe Apple is shooting itself in the foot for not at least offering customers the option.
The iPhone's 1136 by 640 display is actually way behind the current Full HD panels you get in other top end smartphones, and it simply does not match the HTC One's incredibly fine detail. On the other hand, its colour quality and brightness is very good, and you have to ask yourself at which point the ever increasing phone resolutions reach some point of diminishing returns. To put it another way – at no point do you look at the iPhone's Retina display and wish it had a higher resolution. If that sounds like a pro-Apple comment, look at something like the HTC One Mini's screen as well.
Touch ID
So with all this talk about what has not changed on the 5S, what is actually new? The 5S sports a new home button with a built in fingerprint reader, something Apple calls "Touch ID". The home button now has metal conductive surround to activate the touch sensor, and the button itself is now covered in sapphire crystal, instead of the old plastic design.
The sensor works incredibly well in everyday use – if you have some memories of fingerprint readers on your old laptop, forget all that. This is one of those typical Apple stories of taking a seemingly old tech, and making it simply work. On first boot up of the phone you are asked to enroll your fingerprint, which basically means dabbing at the button until it "fills up" a fingerprint read. In its current form it is only used to unlock the phone (instead of typing the passcode), and to confirm AppStore purchases (if you choose).
Once registered I noticed it did not seem to unlock my phone every single time I used it – but over time it quickly improved. Out of the box, it took about two days for Touch ID to work every single time, even with awkward presses at different angles.
Over time the fingerprint recognition simply falls into the background, and you quickly forget about it. In fact, Touch ID works so well I have to question why Apple did not put in their new iPads.
The Camera
Apple is clearly moving in the same direction as HTC by not punting the number of megapixels. While Nokia and Sony are moving to 20+ MP cameras, Apple stuck to a 8MP sensor, but a physically 15 per cent larger sensor. This means better image quality in low light – something that is indeed noticeable.
But the camera has a few neat tricks up its sleeve as well – it features a much improved burst shot mode – now hitting 10 shots per second. But the best part is the software, which can quickly show you which shots are the best out of that burst shot batch. This saves on you having to go and delete a bunch of extra photos later.
The flash has been reworked as well, with a cool two-tone flash consisting of two LED's with different colour temperatures. Depending on the current colour warmth, the camera will fire the flash off in a specific combo between the LEDs in order to not wash out the photo. Smart – but it still does not do miracles. I still prefer a xenon flash.
But my favourite feature of the camera is the new "Slomo" video mode. It records 720p video at 120 frame per second. This is not necessarily ground breaking, with other phones on the market being able to do this already. But once again it is the software that makes the iPhone so much better. You record your video as normal, then choose which portion of the video you want to be slow motion. The best part is that sound is also put in slow motion. The downside to this slomo mode is the amount of storage it takes up – on a 16GB iPhone you only have to take a few videos before the camera app halts the fun.
The front facing camera is improved as well, with a larger sensor, which means better video conferencing. Or #selfie, if you are so inclined.
Performance
Typical of a "S" phone the biggest changes can be found on the inside. The iPhone 5S features a new A7 system on a chip – which doubles the performance of the previous A6 chip found in the iPhone 5.
The A7 features OpenGL ES 3.0 which means desktop class graphics, so we can expect some amazing games in the future. But the big news is that the processor is now 64bit capable, which is unfortunately not something we can gain too much benefit from right now. Apple claims that iOS7 was built from the ground up for 64 bit, and they have released most of their own apps to support 64 bit mode as well.
The A7 is indeed much faster in everyday use – you simply do not hang around on "loading" screens, no matter how complex the game. Certain games do harness the new OpenGL features – so you can expect improved graphics from games like Infinity Blade 3.
The fact of the matter is that the A7's performance will only kick into high gear once developers build around the new 64bit architecture.
The other major change is the addition of the new "M7" co-processor. The M7 is essentially a motion tracking chip that continually logs all movement the phone is going through, without having to use the more power hungry main processor. This means motion tracking apps like the Nike Move app can continually track your movement, and give you movement scores, just like the Nike Fuelband.
The M7 also does a few more interesting things like knowing if you are walking or driving, and changing your navigation prompts as such. Another example is if notices it is not moving, it knows not to ping the network as much – saving battery power. Very smart.
On the subject of battery power – the 5S's battery feels on par with the previous iPhone's standby time. Browsing time has apparently been improved as well, but I do not typically sit and browse the web for 10 hours+ in a single charge on my phone. With heavy use (push mail, background app refresh on, plenty of phone calls etc) I managed to just get by in the day, but with light usage it can easily go a day and a half. That M7 processor clearly helps with some apps. (Here is our tips to get the most out of your iPhone battery life)
One point of criticism that carries over from last year is that the high end 5S's storage only starts at 16GB – and that the cost to jump to 32GB is too much in our opinion. 16GB is simply too little in this day and age, we think the 5S should have started out with a 32GB as the base model.
The Software
The 5S ships with iOS7 out of the box, but we already had some software updates waiting for us the first time we connected to Wi-Fi. If you are coming from a previous update, the restore process is remarkably easy. Using an iTunes restore you should be up and running in a very short time. If you have a fast internet connection, the iCloud based restore works very well.
If you are coming from a different phone, you will have a little more work. If you are storing your contacts and calendar using services like Gmail or a work based Exchange server, the setup is quick enough. But with Apple's thorough iCloud integration (contacts, calendar, mail etc), they are making it more difficult for you to ever move away from the Apple ecosystem (or rather – way to easy to stay with Apple). We still recommend using something like Gmail instead if you wish to move between different branded devices.
iOS7 still feels a little unpolished in certain respects, but it does feel very fresh compared to other operating systems. While you do not have the customisation of Android, iOS7 is a very good looking operating system, with a clean sophisticated look. The good thing is that most apps have caught on to the new design language, with the sole holdout being Whatsapp.
iOS7 has also been rebuilt to be 64bit capable, so on the iPhone 5S it simply flies. There is notable lack of lag in typical areas where you might have noticed it on the iPhone 5 – like settings, launching games, etc. The new operating system is very reliant on animations, transparency and sweeping effects, and the 5S handles it very well. Personally I still switch on the "Reduce Motion" option, because I do not like to wait for animations, even if they are pretty.
Lets also just mention that iOS has one key benefit above other operating systems. Software updates for iPhone roll out everywhere in the world, on the same day. Does not matter how you cut it, the iPhone has the best chance of staying "current" in terms of software for the next few years. The only other phone that comes close is the Google Developer edition or Nexus Android phones, and those are pretty tough to come by in Africa.
So should you get it?
If you are already an iPhone 4S or older user, the answer is pretty simple – yes. But if you have a iPhone 5, I do not think it is quite worth it. Once again in typical Apple form, their phone upgrades seem to make most sense in a two year cycle. If you have a iPhone 4S, the iPhone 5S is a great upgrade, and you will notice a massive performance increase, gain a bigger screen, and the improved camera is a joy to use.
If you are not coming from an iPhone, the question becomes a little harder. The latest iPhone is still a class act in terms of fit and finish, and the iOS platform does carry some unique benefits which might appeal to some (I do not want to get into the iPhone vs Android debate here). But if you are not quite swayed by Apple's "take it or leave it" mobile operating system, but you want a similar high quality build, we still recommend the HTC One as the best Android phone out there. On the Windows Phone side, any of the high end Nokia Lumias should serve you well.
If you are indifferent about what operating system you want to use, you cannot go wrong with the iPhone 5S.
Pros:
Still first rate fit and finish.

TouchID fingerprint security is great

New camera tricks, slomo mode

Marked improvement in performance
Cons:
Smaller screen might bother some.

Samsung offers a much better warranty in SA.

16GB starter model is becoming too small.