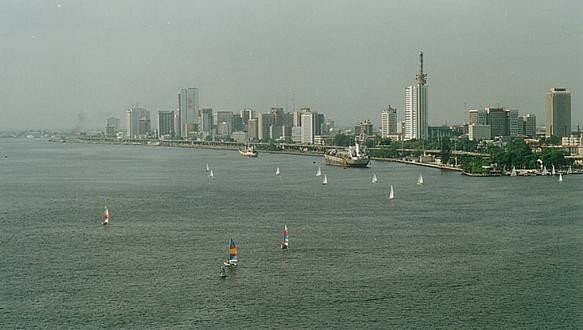 Nigeria's commercial capital Lagos. CC image courtesy of Benji Robertson.
The Nigerian federal government, Lagos State and industry stakeholders have struck a deal to negate issues hampering the rollout of base stations and fibre optic cables in the country's commercial capital.
Right of way fees to lay cables and build base stations, as well as taxes and levies at federal and state level, have long increased the cost of putting in place the necessary infrastructure to expand and improve broadband services, but a meeting between Omobola Johnson, Nigeria's communication technology minister, governor of Lagos State Raji Fashola, members of the Association of Telecoms Companies of Nigeria and representatives from network operators appears to have made headway.
HumanIPO reported last month the Nigerian Communications Commission (NCC) had published its draft plans for the rollout of the Next Generation Broadband Network (NGBN) which included a commitment to increase cohesion between all roleplayers and in particularly a resolution to right of way issues for construction work.
At the meeting Biyi Mabadeje, commissioner of science and tech for Lagos, said they had agreed to reduce and tax and levies by more than 40 per cent and right of way fees to NGN500 (US$3.15) per linear metre, a reduction of almost 90 per cent, reports This Day.
Another agreement was for a 'dig once' policy, meaning the first operator to dig up a road and lay fibre would install spare capacity in the duct to allow other networks to add their fibre, meaning roads are not compromised multiple times.
Nigeria's broadband penetration rate is currently 6.1 per cent, but the NCC aim for it to be five times that by 2017.