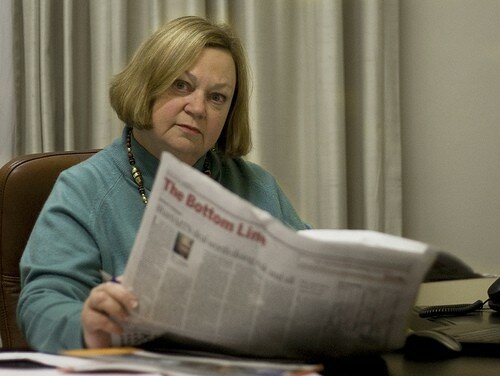 Marian Shinn. Image courtesy of The Democratic Alliance.
Marian Shinn, the Democratic Alliance's shadow minister for communications, has called on President Jacob Zuma to expel South Africa's former minister of communications Dina Pule from parliament after the public protector published a scathing assessment of the latter's conduct.
HumanIPO reported today Thuli Madonsela declared Pule's conduct while heading up the Department of Communications (DoC) as "unlawful" and "unethical", while also ordering her to apologise to the Sunday Times newspaper, parliament and her former colleagues at the DoC.
Shinn said Zuma must refrain from allowing Pule a "soft landing in a diplomatic or government posting", pointing to the fact the former minister had violated two sections of the constitution.
"Pule has already been found guilty by the multiparty Parliamentary Ethics and Members' Interests Committee of violating the Executive Members' Ethics Code, and escaped with an insincere apology and a seat on parliament's Portfolio Committee on Transport," Shinn said.
"Adv Madonsela's damning report of the rapacious way in which Ms Pule, her romantic partner Phosane Mngqibisa and some officials in the department, saw Carol Bouwer's idea of the ICT Indaba as an opportunity for self-enrichment and cavalier behaviour, are a clear indication that Ms Pule has an ethical deficit and inability to act in the best interests of the government and citizens when her own interests are conflicted.
"This is not the fabric from which diplomats and high office bearers are made."
Shinn added that the Hawks' investigations into Pule, which she requested, are ongoing and that the current communications minister, Yunus Carrim, must deal with any members of staff left in the DoC who aided Pule in her efforts to manipulate the Cape Town ICT Indaba last year "in a manner that is an example to all senior public servants tempted to bend the rules to serve the personal interest of politicians and their fellow travellers".
She said: "President Zuma must follow the public protectors' recommendations that Pule face the full might of the law for her transgressions while in public office, eat humble pie and make good on her promise to ensure that every taxpayers' cent that funded her former boyfriend's jet-set life as her companion is returned to the fiscus."