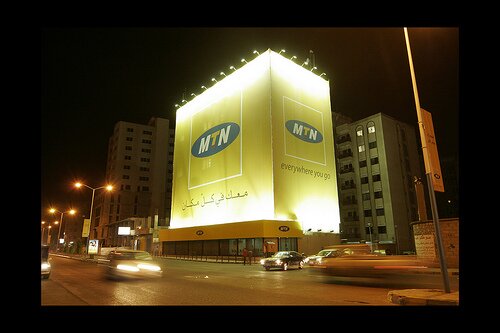 CC image courtesy of Public Relations at MTN Yemen1 on Flickr.
Nigeria's largest telecoms network MTN has told HumanIPO it is not responsible for the hike in the prices of the various denominations of its recharge cards.
On Monday, the network's subscribers across the country were informed of a 10 per cent increment in the prices of various recharge card denominations, with the NGN100 denomination rising to NGN110 and the NGN200 denomination rising to NGN220, while subscribers who want to purchase higher denominations are now being compelled to pay additional charges.
However, MTN Nigeria public relations and protocol manager Funso Aina told HumanIPO the network is not aware of the hike and did not give the directive.
"Any variance from the authorised face value of recharge cards is without MTN's knowledge or authority," he said.
"The cost of every recharge card is the value stated on it. Any third party selling recharge cards at a value at variance with the face value is acting illegally."
Cities affected by the increment include Lagos, Abeokuta, Ibadan, Abuja, Owerri, Port Harcourt and Kano.
Aina said there is a distribution structure for recharge cards that all partners must adhere to.
Prior to this official response from the network, many subscribers believed the hike was an attempt by the network to compel its subscribers to switch to various electronic platforms, such as ATMs and third-party apps that have QuickTeller functionalities, since the extra charge does not affect those that recharge using these platforms.
On social media and forums such as Nairaland, the network's subscribers have expressed their dissatisfaction with the price hike and a cross-section of aggrieved subscribers have called upon the regulatory body, the Nigerian Communications Commission (NCC), to intervene and sanction MTN.