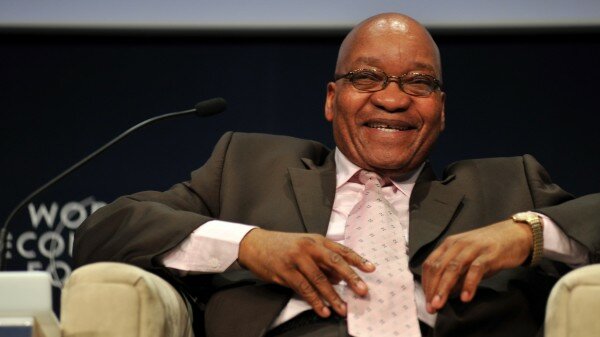 President Jacob Zuma. CC image courtesy of the World Economic Forum.
South African president Jacob Zuma has said he is concerned about incorrect billing by the South African National Roads Agency Limited (SANRAL) for the controversial e-tolls in Gauteng province.
HumanIPO reported last week opposition party the Democratic Alliance (DA) had received over 300 hundred e-toll billing complaints from the public since calling for queries to be submitted in order to be forwarded to the National Consumer Commission (NCC), which has said it will take up complaints.
The South African Press Association reports Zuma said in an interview with South African Broadcasting Corporation News (SABC) News the billing issues were unacceptable and needed to be fixed.
"We are often told electronic things don't commit mistakes. I think it is unacceptable because it is causing an unnecessary problem," he said. "You can't then bill people wrongly. It is a matter that needs to be fixed and be fixed very quickly because it undermines an efficient system."
He said SANRAL had been made aware of the need to deal with the problem.
"We have raised the matter with them. We have, in fact, raised the matter very formally with the department [of transport] and with the agency and it is a matter they are working on."
Zuma has been criticised for his comments on e-tolling before, in October attempting to justify the controversial policy by comparing South Africa's national roads with those of Malawi.
HumanIPO reported last week the Tollgate Action Group (TAG), comprising the Freedom Front Plus (FFP), the Transvaal Agricultural Union of South Africa (TAU-SA) and the National Taxpayers' Union (NTU), is to push ahead with a court case to have e-tolling declared unconstitutional.
Both the FFP and the Opposition to Urban Tolling Alliance (OUTA) have already failed in court cases against e-tolling, while the Democratic Alliance (DA) has a case confirmed for March.