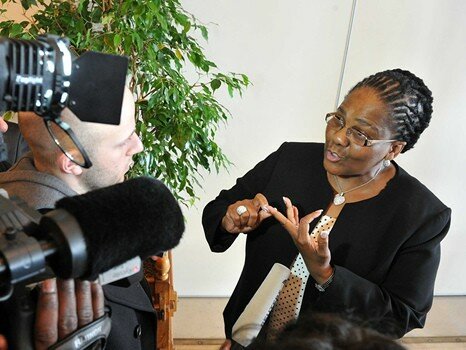 SA transport minister Dipuo Peters. (CC image courtesy of GovernmentZA on Flickr)
South Africa's transport minister Dipuo Peters has admitted there have been problems with the controversial e-tolling system in Gauteng, and said the South African National Roads Agency Limited (SANRAL) must correct billing issues.
The South African Press Association (SAPA) reports Peters told parliament's transport portfolio committee during a briefing on e-tolling yesterday there had been problems, following complaints from users about billing and registering.
"There remains a need to educate road users on the way the system works and the various registration and payment methods available," she said.
"My instructions to SANRAL… are clear and unambiguous. They must sort out the billing challenges and sort it out now."
Earlier this month SANRAL said it was giving its full attention to resolving billing issues after President Jacob Zuma raised concerns.
However, both Peters and SANRAL made it clear there was a positive side to the system.
"A positive outcome of implementation of the system has been the identification of duplicate and cloned [licence plates], unregistered [vehicles] and vehicles without number plates," said Peters.
The minister urged all members of parliament (MPs) to register for e-tags, and criticised Democratic Alliance (DA) shadow transport minister Ian Ollis when he said he had not.
"I can't believe that you display that publicly… and you swore allegiance to the Constitution," Peters said, though Ollis pointed out the law did not require South Africans to buy e-tags and said he was simply testing to see if the system worked.
SANRAL chief executive officer (CEO) Nazir Alli expanded said the teething problems included people making payments via online transfer and a slow internet system.
"We impact about 2.5 million users monthly. Like most IT systems, when you first start, there are teething problems," Alli said.
In a statement issued after the briefing, Ollis criticised Peters for sticking by e-tolling despite its failings.
"There are still no plans for resolving problems relating to e-tolls and policing. It seems, as usual, the minister remains adamant to continue with this disastrous project – which South Africans neither want nor can afford,"he said.
Ollis said he had asked the committee chairperson, Nozabelo Bhengu, to reconvene it in order to question the minister on how the problems are being resolved.
"We remain committed to ensuring that we protect every Gauteng resident who is subject to abuse by this system,"Ollis said.
HumanIPO reported yesterday the Opposition to Urban Tolling Alliance (OUTA) said the committee should see beyond what it is told by SANRAL, after the organisation again questioned SANRAL's figures for e-toll compliance.