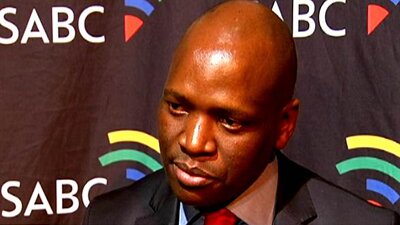 The South African National Editors' Forum (SANEF) has condemned a proposal by South African Broadcasting Corporation (SABC) acting chief operating officer (COO) Hlaudi Motsoeneng that journalists should have to be granted licences to practice.
Motsoeneng was speaking the annual Radio Days conference in Johannesburg yesterday when he said South African journalists only report on corruption because the country is governed by Black people.
"Motsoeneng said journalists who acted unprofessionally should be stripped of their licences. That part of his proposal is exactly the reason why the media in democracies reject it," SANEF said.
"In many dictatorships and authoritarian countries journalists are forced to register and obtain licences to work. These governments do this so that they can control the gathering and publication of news by journalists."
It said Motsoeneng had already displayed ignorance of journalistic practices when trying to prescribe that reporters at the SABC broadcast 70 per cent good news about the government.
South African opposition party the Democratic Alliance (DA) has also expressed its concern at Motsoeneng's comments.
"These are not the considered opinions of a responsible and independent public broadcasting professional. They are the senseless ramblings of a man hell-bent on presenting Jacob Zuma's [African National Congress] in a positive light amidst the litany of corruption scandals that dog his Presidency," said Gavin Davis, DA shadow minister of communications.
Davis said Motsoeneng's comments give the SABC board another reason to suspend him.
"There is no reason for Mr Motsoeneng to still be at the SABC, and every reason to relieve him of his duties. The public protector found that he had lied about his qualifications and that he awarded himself irregular pay increases up to ZAR2.4 million (US$223,000). Under his tenure, the SABC has hit rock bottom, earning a disclaimer of opinion from the auditor-general," he said.
This week communications minister Faith Muthambi said no progress had been made in replacing the COO, despite his appointment being found to have been irregular.
Motsoeneng made headlines last month after traditional Venda chiefs in Thohoyandou, Limpopo gave him a wife, along with a cow and a calf.
The Commission for Gender Equality (CGE) announced it had received a complaint after Motsoeneng allegedly accepted the gift.