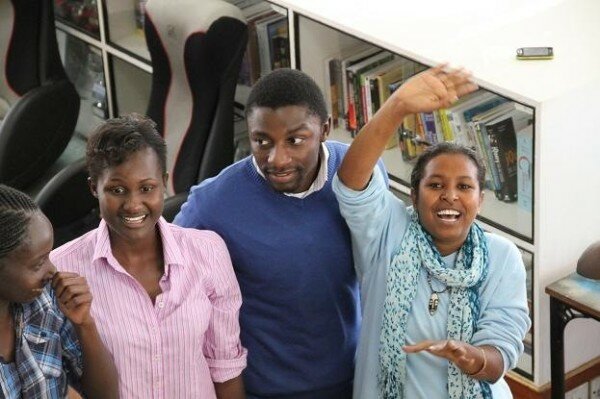 M-Farmers Susan Oguya, Linda Kwamboka, Isaak Mogetutu and Jamila Abass today, 31.10.2011, @iHub in Nairobi celebrating M-Farm´s 1st birthday
It was exactly one year ago, when three Kenyan girls decided to create an app that would help their country's farmers to improve their productivity and increase incomes.
The idea entered the IPO48 bootcamp and was considered the best. One of the "mfarmers", Jamila Abass reflects on what has happened since then.
"It (the year) has been like a roller-coaster for us," Jamila says and laughs. "It looks really great on the outside when you are presenting the idea theoretically, but doing it is a whole other world. When we were pitching the idea a year ago, we said we would have 10 000 farmers as our users by the end of the year. Today with a little over 2000 we still do not have even a third of that."
Why is that?
People are very slow in Kenya and everything is very bureaucratic. For example, it took more than three months for us to get a short-code and another two to get it going! And being a first time entrepreneur you learn a lot and make a lot of mistakes that slow you down.
But in general, are farmers liking your app?
The idea has been well embraced and liked by the farmers, it makes a lot of sense to them. Some have even asked us – what took you so long?
Has the initial idea changed during the 1st year?
Some of it, yes. In the beginning it was B2C, now B2B. In the beginning we talked to individual farmers in order to recruit them, then we understood it was more interesting to talk to group of farmers, to cooperatives. Also, some of our revenue model has changed. In the beginning it was concentrated on the SMS-service, now data sales: commodity and price information. This information is used by media-houses. We disseminate the data through mobile phones, they display it on radio and TV in specific programmes for farmers.
You were initially three ladies founding the M-Farm – are all of you working on it full time now?
Yes, we are, even more than full time! And today beside us there are 12 more people working here.
What is the feedback from your mentors and investors?
They have helped us to expand our network a lot, by introducing us to new people all the time, so they believe in us clearly. Their message is that we are heading to the right direction, we just need to scale it up pretty quick.
Where do you see M-Farm on its 2nd birthday?
During our first year there has been a lot of noise made about our existence. Most of the people who have heard about us, wait for us to justify what we have done. When we celebrate our 2nd birthday I hope they will not expect that, but instead they will be able to see it with their own eyes what we have done. We really believe in our startup.
If you, too, have an idea that might help somebody, then do not wait any longer – sign up on HumanIPO and get topnotch mentoring from our Rainmakers, maybe even an investment. And then, who knows, in a year from now we might be interviewing you!