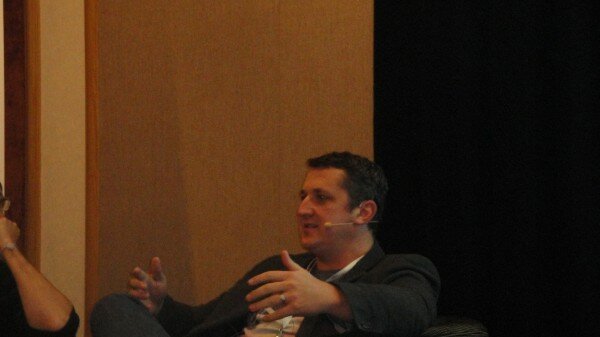 Brett St Clair, head of new products at Google Sub-Sahara, speaks at a panel discussion at the Digital Services Africa conference. Image by HumanIPO.
Mobile-based social media can potentially overtake the role of operators as services overlap with growing data and content delivery, according to experts.
Social media experts spoke about the possibility of social media stepping into the shoes of operators at the Digital Services Africa conference in Johannesburg this week.
Bradley Shaw, head of business development at Spinlet Southern Africa, sparked the topic of social media chat apps, which started out as a lower cost of entertainment, as now potentially dominating the space of content provision from USSD to further services.
Marc Herson, director at 2Go, said: "Is that the right question to build major things to come out of product dilution risk or do we come to the point where we lose the core of what we are as a chat network and on those executions, can we actually do that?"
With integration on the table, as in many other industries, the general agreement is a synergy between chat services and over the top (OTT) players will be time consuming with required structural changes.
Vincent Maher, vice president of growth and product strategy at Mxit, said: "[The] focus [should be] on partnering, rather than trying to do everything themselves.
"It is very difficult because culturally and structurally a lot of the things need to change that you are essentially providing, which you see as the enemy."
Herson believes revenue and subscription ownership are the main two factors to consider.
"It really comes down to the details around how it works in practice, who owns the subscriber," he said.
Brett St Clair, head of new products at Google Sub-Sahara, is of the opinion the evolution of content provision and usage, points to the "maturing of the consumer".
"They are desperate for the content, the discovery of the content," he said.
With the emerging smart feature phones, internet connection on feature phones for more African mobile users is said to be a game changer.
While Herson believes Africa's legacy lies in feature phones, Mayer pointed to the "massive category" of smart feature phones when it comes to more data access.
Shaw said: "As service providers we can't engage our customer without constant quality of service. Operators can't engage with their customers without constant quality of service and it comes down to the point are operators going to become dumb points?"
St Clair pointed to the aspect of the consumer experience. "As content providers we are trying to make it quicker, better, faster because we know that the better it is, the better our chance is to acquire customers. So it's about speed, reliability," he said.
Maher agrees with the notion of a partnership in growing revenue and network strength together with data playing a significant role.
St Clair related his experience of app developers at the Google Play store, who have the desire to collaborate with operators but face the obstacles of limited resources and process, which terminates region-based integration.
Process integration is key, the Google expert said.
Commercial models is said to be a solution to building strong partnership with operators.