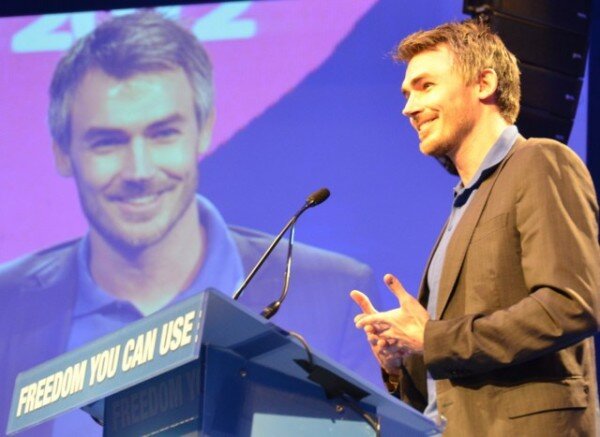 Image courtesy of Tim Harris.
South Africa's leading opposition party, the Democratic Alliance (DA), is calling for parliamentary review into the exchange controls, seen by many as an obstacle to entrepreneurs and foreign investors doing business in the country.
Billionaire South African Mark Shuttleworth lost his court battle last week to get the exchange controls declared unconstitutional and will not be getting the ZAR250 million (US$25.2 million) he was charged in 2009 for moving money out of the country back any time soon.
Judge Francis Legodi did however label some parts of the Currency and Exchanges Act and Exchange Control Regulations as "unconstitutional", in particular the huge amount of power the president holds in the ability to make major changes.
Tim Harris MP, the DA's shadow finance minister, said this judgement gave the opportunity to revisit the controversial exchange controls.
"I intend writing to the chairperson of the Standing Committee on Finance, Mr Thabadiawa Alfred Mufamadi, to request that our committee urgently convenes public hearings into exchange controls with a view to amend the Currency and Exchanges Act of 1933 and to make recommendations on an overhaul of the associated regulations," Harris said.
"Judge Francis Legodi opened the door to such a parliamentary review by declaring various sections of the Act and its regulations "unconstitutional and invalid". In his judgement he identified that various aspects of the exchange control regime inhibit the right to free trade, impede internet transactions and infringe the right to privacy."
Harris, who is also government liaison member on the Silicon Cape committee, told HumanIPO in April the exchange controls in South Africa needed to be drastically changed, especially the fact intellectual property is classed as capital.
He said at the time: "This [intellectual property] is the real bread and butter of the venture capitalist. You are moving financial resources to try and support IP. When you do that in South Africa you are constrained.
"We have a huge generalised constraint on VCs, which I have argued is the main constraint holding back Silicon Cape and the tech sector in South Africa more broadly."