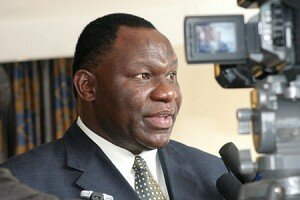 Bitange Ndemo (nation.co.ke)
The Kenyan government has said it will be monitoring users of social media and taking action against anyone found inciting violence or using hateful or ethnic language in the build-up to the March 4 general election.
Bitange Ndemo, permanent secretary at the Ministry of Information and Communication, has said fines of up to KSh1 million (US$11,000) and jail terms of up to three years will be levied at those found using abusive or threatening words on the likes of Facebook and Twitter. 
He also warned that the government had the ability to trace those who used social media to use such language, and that the ministry had already identified some suspects.
"I saw a very bad tweet yesterday," Ndemo was reported as saying by Capital FM. "There is a process called triangulation and it is actually very easy to know who is doing it. Most people probably are doing thinking it is not easy knowing who they are.
"We however have the capacity to do triangulation and very easily get to the person and that is what we are going to do with the names that we have."
Police Spokesman Charles Owino asked people to act responsibly when using social media, given the importance of the approaching elections.
 "We are not going to have a policeman posted behind every Kenyan who is going to listen to what he is saying. That is not practical. What we have to be looking at is the moral status, your responsibility as an individual," he said.