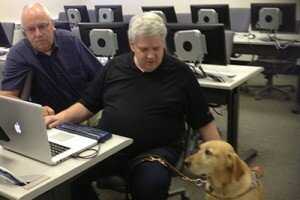 J.R. Westmoreland (weber.edu)
J.R. Westmoreland, a senior in computer science at US-based Weber State University, has become the first blind person to create an app from start to finish, in what his lecturers have termed "breaking the visual barrier".
Westmoreland created the app prototype after learning about the layout and visualisation of the development tools, according to associate professor of computer science Rob Hilton.
Once Westmoreland had acquired the necessary skills, says Hilton, he envisioned a little wire connecting the components and dragged the code from point A to B "much like playing the game of Battleship in the dark, only much more complex". 
Hilton said: "Once he had counted and memorized the lines, then visualized them in his head, we had our Helen Keller moment. We jumped up and said, 'hey, this is going to work.'"
Westmoreland, a programmer and software engineer for just under three decades before being laid off during the 2008 financial crisis, says he is confident he can create any app using the standard Apple tools.
"This is a breakthrough concept. Now that I can do this, I can create any app, just like a sighted person and hand that code off to somebody else who will do the artwork, such as colour, spacing and aesthetics," he said.
Hilton describes Westmoreland as a computer wizard with phenomenal skills.
"He's always been brilliant and a wizard at computers. If you've seen a movie like 'Hackers,' he has that kind of talent. If he ever turned evil, he could use his genius for a bad purpose," Hilton said.
According to Westmoreland, he hopes his achievement will give hope to many unemployed talented blind developers whose statistics range between 75 and 80 percent to play their role in the technology space.
"This breakthrough proves that a young blind person today can get involved in programming the most popular new technology, opening doors in higher education and the marketplace," he said.
It is hoped that with this breakthrough, societies will be open to supporting the visually impaired people in the field of technology, especially in regions such as Africa where the blind have reportedly been sidelined even in accessing formal education.