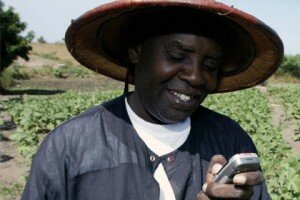 mobility.com.ng
Farmers in Nigeria have opposed a government plan to hand out up to 10 million mobile phones to farmers for free, instead lobbying for funds.
Two weeks ago, permanent secretary in the Federal Ministry of Agriculture and Rural Development, Ibukun Odusote announced that Nigerian farmers will receive the phones in order to allow the government to communicate with farmers in the rural areas.
But farmers say this is a misplaced priority on the side of the government, with Dr. John Akwara, chairman of the All Farmers Association of Nigeria in Delta State, saying that phones are not on an average farmer's list of priorities.
"What we need are funds not phones. We also need to see some sincerity in the people who are in the Ministry of Agriculture because they are fond of 'cornering' things meant for farmers for their personal use," Akwara said.
He added that if the government really wants to help farmers, it should enable better access to funds, adding that bank interest rates are too high.
"Average farmers can't get loans from banks. So, government should make sure we get these funds," he said.
One farmer was quoted as saying that phones have become very cheap, and that any farmer who needs one can afford to buy it.
In the project announced by the Federal Government, farmers were to receive the phones that were to be procured directly from manufacturers.
Mobile network providers were required to improve their service coverage in these remote places where the phones were to be distributed.
This is the first time the Nigerian government had been willing to use technology in making it easier to communicate with the farmers, as opposed to using agricultural officers who go to farms to educate the farmers.
The government has not yet responded to the criticism and it is not clear whether or not it will proceed with the project.