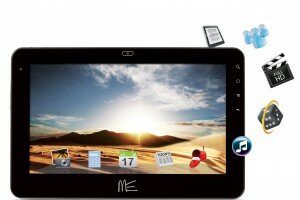 Image from businesswireindia.com
Indian technology firm HCL Infosystems is set to debut low-cost Android-powered tablets for the Kenyan market in the next few weeks.
HCL Infosystems promised to debut three ME Tablets namely U2, V1 and Y3. The U2 tablet, which will measure 7 inches and run on Android 4.0 Ice Cream Sandwich, will be the cheapest, retailing at around US$109.

"The Tab has an integrated front camera for video chat. The tablet also carries a powerful GPU and 1GB DDR3 RAM which enables one to enjoy smooth 2D/3D graphics gaming," the company said, adding that the tab has an 8GB internal memory, expandable to 32GB.

The ME V1 tablet has 1GHz processor, Android 4.0, dual camera with LED flash, 1GB DDR3 RAM and 8GB internal memory. It also has an integrated voice receiver, proximity sensor and loud speakerphone, enabling the tab to be used as a full-fledged Android smartphone. It has integrated graphics enabling smooth graphics and gaming, and will retail for around US$136.

The last of the range is ME Y3, which can be purchased at a price of US$204. The tab carries all the advantages of ME U2 and V1. It also includes high-speed 3G Internet, dual camera and a 7-inch high resolution (1024 x 600) multi–touch capacitive screen.

Srinath Nagarajan, Business Head-MEA, Mobility Business Unit, MEA, said, "We are very excited to launch our new range of ME tablets. The launch comes as part of our commitment to offer the best in technology and continue our innovation and leadership in the value category of tablets. Africa has a highly competitive tablet market with the demand for innovative technologies growing at a rapid pace."

Nagarajan added that HCL Infosystems has made huge investments in research to develop innovations that would enable us to deliver devices to a larger customer base, making technology more accessible.

"Understanding the need to cater to individual preferences of our customers and resonating the brand message - Change Begins with ME, we wish to meet and exceed their expectations in technology by delivering an amazing user experience," he said.

The entry of the company into the Kenyan smart devices market is expected to stir competition from other players such as Huawei and Samsung, who have more African market share in tablets.