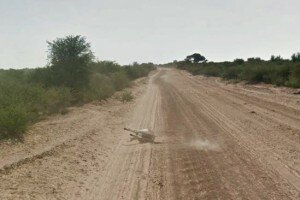 news.com.au
Google has been forced to deny that its Street View vehicle killed a donkey in Botswana after an image of the prone animal appeared online.
The image on Google Street View appeared to show an injured or dead donkey lying in the centre of a dirt track after the vehicle had passed by.

Images on Street View showed the donkey initially standing upright, though once a user scrolls along the dirt road and looks back the animal is lying on its side, leading to speculation that the animal was hit by the vehicle.

Google has been quick to deny the incident.

"Our Street View teams take the safety of people and donkeys very seriously," a Google spokesperson told news.com.au. "A review of our imagery confirms that we did not cause any harm to the donkey."

The tech giant claims that the donkey was already lying down when the vehicle approached, and then stood up and walked away. Images provided to news.com.au by Google confirmed, the company claimed, this series of events.

This claim, was however, questioned by news.com.au, who pointed out a cloud of dirt around the donkey which may have been caused when the animal fell to the ground. The site also draws attention to the fact that the series of images appear to show the donkey walking backwards, something experts confirm is impossible.

Twitter users also seemed sure that the incident had taken place.

@handelaar101 tweeted: "Google Street View is in Botswana now - and apparently Google kill donkeys there too..keep an eye out for the donkey".

"The evidence is fairly compelling RT @duncanrobinson: Question: did Google street view run over a donkey in Botswana?," wrote @tompeck.