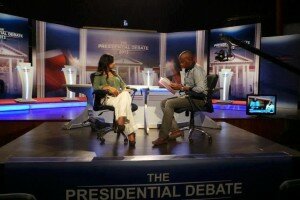 Image: Kenya Presidential Debate Official Facebook page
Over 40 million Kenyans will today watch the country's first ever presidential debate set to be televised in eight television stations and 34 radio stations, with millions more set to catch the livestream online.

The KSh100-million (US$1.15 million) debate will see six presidential candidates in the country defend their manifestos and policies, which the event organizers hope will enable the Kenyan electorate to make an informed decision on whom to elect during March 4 general elections.

"What the viewers can expect is a very exciting, fast-paced production with high quality pictures and sound, and something that is produced to international standards," one of the managing crew told KTN in an interview.

International media channels, including CNN and Reuters, will also cover the event.

This is the first time ever that a live presidential debate and the country will now join the likes of Ghana and Sierra Leone in Africa, who have held televised presidential debates for the first times in their recent elections.

The presidential debate team said it received over 5,000 questions from Kenyans via social media, SMS, and email that were analyzed by seasoned journalists and experts to be directed to the presidential candidates in an event that is scheduled to take two hours.

"This will be an opportunity for the candidates to engage the audience and show what really differentiates them from their competitors," Presidential Debate 2013' director of operations Francis Munywoki said.

The event kicks off at 6.30pm Kenyan time, with a pre-debate expert analysis, before the main event at 7pm Kenyan time.