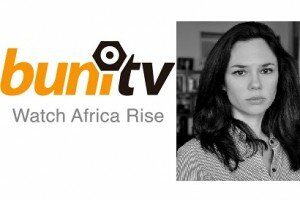 Marie Lora-Mungai of Buni TV (Images supplied)
HumanIPO caught up with Marie Lora-Munga, founder and chief executive of Buni TV, a Kenya-based video on demand platform.
HumanIPO reported in February Buni TV had reached one million page views, with 60 per cent of its traffic coming from Africa.

HumanIPO: What description would aptly fit Buni TV?

Lora-Mungai: Buni TV is a web and mobile video-on-demand platform that leverages Africa's mobile boom to revolutionise the way content is being distributed and consumed on the continent.

What range of content does Buni TV provide, what languages are predominantly featured in the content and where is the content sourced from? Does the content feature on traditional television channels?

Buni TV distributes a wide variety of video content, namely feature and short films, documentaries, animation, television shows, web series, and music videos. Our editorial team sources and licenses the content from individual filmmakers, film distributors, free-to-air television or pay-tv. Anywhere it can be found!

But we don't just take any content. We have a strong editorial policy and we focus on high quality videos that speak to what we call "the modern African experience," including the diaspora.

Most of the content we currently carry is in English, but we have plans to build up our catalogue in other languages that are widely spoken across Africa, such as French, Swahili, Arabic and Portuguese.

When was Buni TV established and how many views and unique visits have been recorded? How many African countries does Buni TV operate in or is it accessible all over the world through the website?

Buni TV launched in April 2012 and in January [2013] we announced that we had reached 300,000 unique visitors and more than one million views in our first 9 months. Buni TV is accessible from anywhere in the world on the internet and on any smartphone through our mobile site.

We are very happy with these numbers, but what's even more interesting is where our traffic has come from so far: 60 per cent of our viewers come from Africa, 22 per cent from North America and Europe, and 18 per cent from the rest of the world.

Also, 33 per cent of our total traffic (and 77 per cent of new visits) already come from mobile. This tells us that we were right to think that Africans are ready to discover and watch videos on their mobile devices.
Has the partnership between Buni TV and AfricaFilms.tv proved successful thus far and will there be a re-branding in the future given the partnership?
We only announced our partnership with AfricaFilms.tv a couple of weeks ago, but we have already started approaching rights owners with a common license agreement and the response has been very positive so far.

One of the big goals of this new partnership is to clarify the video-on-demand market for filmmakers, expand their potential audience across the continent and throughout the diaspora, and create more monetisation opportunities for their content.

We also offer rights owners the option to let us handle the distribution of their films on other digital platforms or officially register them on YouTube to protect them against piracy.

We believe that our joint service is very attractive to African content providers seeking to maximise their films' digital distribution potential, in terms of both exposure and revenue.

Buni TV and AfricaFilms.tv are united in achieving these goals, and we will be sharing content and coordinating acquisition strategies. However the two platforms will continue to operate under their own brands.
In your opinion, how strong is Buni TV in South Africa and are there plans to promote it in the country?

We have not yet started to promote Buni TV in South Africa, but of course, it is one of the large markets we are looking at for future expansion.

With the company being based in both Nairobi, Kenya, and Los Angeles, USA, what operations is Buni Media involved with and what is the meaning behind the name "Buni"?

Buni Media is Buni TV's parent company, and it handles the production side of our business. "Buni" means "innovation" in Swahili, and Buni Media's mission is to use a variety of innovative media techniques to tell compelling, visually arresting and modern stories that challenge the status quo.

The company is most well-known for producing The XYZ show, a hugely popular political satire program in Kenya that is followed by more than eight million people every month.

We also produce animations, books, documentaries, children programming and soon, feature films.

Are there any exciting future plans Buni TV viewers can look forward to?

Yes, we will soon be releasing our first original web series, that we produced in-house exclusively for Buni TV.

I can't say too much about it yet, except that it takes advantage of our company's experience producing comedy and that it will appeal to a wide variety of African audiences. We're very excited about it and we think our viewers will be too.