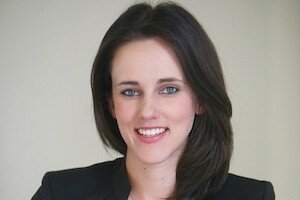 Kate Jansen (heavychef.com)
Kate Jansen, head of online marketing at Cape Town-based fashion e-commerce site Zando.co.za, was among the VIPs at this week's Retail Africa 2013 in Sandton, Johannesburg.
More than 10 million people have visited Zando.co.za since the venture was launched in South Africa at the end of January 2012.

Jansen spoke to HumanIPO on the state of e-commerce in South Africa and the one-year-old company's use of social media and mobile sales and marketing.

HumanIPO: How much potential remains in e-commerce in SA?

Kate Jansen: All bricks and mortar businesses will have an online site within two years and I think we will have a big waterfall in terms of mobile.

This is the beginning of e-commerce. The explosion hasn't happened here yet. I think there is a bit of an attitude in e-commerce rather than healthy competition.

At the end of the day the more players there are in the market the more people there to learn from. The most things that we do to direct people online, the better it is for everyone's business.

The more people that play in the space, the more people will be trained in these [e-commerce] roles.

Zando has a huge Facebook following, but its Twitter followers is around 3,000. Why the discrepancy?

It might be down to my own personal hate of Twitter. It comes out of the fact that Facebook is a customer facing channel. Rather Twitter is far more corporate facing.

Now it is something we need to focus on. When you are a startup you look at resources in important channels. It [Twitter] didn't justify another resource.

I haven't seen a lot of examples of when people monetise Twitter. In social media when you are doing in right then that is great.

Social media is useful for interacting with consumers, but is there a danger of washing your dirty laundry in public when customers post complaints?

Our customer services monitor it and respond to complaints on there [social media], as they are the right people to be doing that.

So from that perspective we always work to manage expectations. Twitter is very limited to help people because it is only 140 characters, so we try to get details - either telephone or email as soon as possible so we can contact them directly.

As an internet business, is it a case of simply waiting for increased penetration to bring further growth?

I think what is pleasing is that we have been able to build a business on a level of internet penetration as it is. And so now it's just exciting to see what is to come. That is exciting for what is to come.

When you launch a business, build it on what the market is now. We have really tried to focus on that. We are not expecting miracles on penetration growth.

Does Zando have a mobile strategy?

We started looking at mobile in the middle of last year. We now have a mobile optimised site. You can't start a mobile strategy without that mobile site and we are getting a lot of traffic from tablets.

Regarding a mobile application, my opinion is to get the basics right first. So the mobile site looks like an app and has a good userability. Apps are great, but they need a lot of maintenance.

The only benefit is you are bookmarked on someone's phone. App development is something we would definitely look at in the future.

Our traffic is still mainly from a personal computer, but the volume of growth that is coming from mobile is really healthy and promising.

You need to focus on what you have to work with right now because that is what is going to add to your growth. We are still a feature phone market.

A year ago everyone was saying BlackBerry is the way to go, but now it is crashing and burning because the BIS service which was so popular is now not making economic sense necessarily. It is dangerous to tie your strategy to one device type.

Are there plans to expand outside of South Africa?

We work closely with sites in Nigeria and Egypt, but we are focusing on South Africa first.