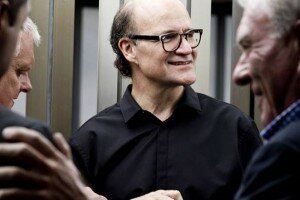 22seven CEO Christo Davel (dailymaverick.co.za)
From the very moment rumours began to circulate that South African money management startup 22seven was set to be acquired by Old Mutual, the debate began as to whether or not chief executive officer (CEO) Christo Davel would be able to survive in a different corporate climate.
A Financial Mail article in February dwelled on whether Davel, now he and his team were on the Old Mutual payroll, would be able to adjust to the situation, being back in the multinational fold rather than the startup mentality. But it appears, with the launch of 22seven's iPhone app and Davel's continuing presence at the company, that all is progressing well.
This should not come as any surprise. Davel is of course well acquainted with Old Mutual, having set up the Old Mutual Direct business in the 1990s. He clearly knew what he was getting himself into when he signed the deal.
Moreover, Old Mutual appear to have given him and his team a free reign to carry on as they were. Carlton Hood, head of strategic marketing at the Old Mutual group, said at the time of deal 22seven would be allowed to maintain its own corporate culture and stay in their Cape Town office, and this has proved the case.
This hands-off approach from Old Mutual - money rather than interference - means Davel only has to focus on scaling 22seven, but now he is able to do that at a much quicker rate than before. It must be noticed that upon launching the iPhone app, the company were able to boldly speak of "huge ambitions" in the mobile space. These ambitions will have been heightened and made a reality by the Old Mutual cash.
Davel told HumanIPO in February the acquisition would quicken 22seven's growth and offer it opportunities to scale abroad. The partnership with a "big daddy" such as Old Mutual, he said, would only serve as a benefit to a company who considered its work only 30 per cent done.
"[Old] Mutual brings the ability to scale internationally that we did not have as a startup," he said, adding that he was committed to finishing the job he had started at the company and that in the short term the acquisition had changed very little at 22seven.
Perhaps this has been the key. Old Mutual has let 22seven maintain its distinctive identity and its startup mentality, and Davel remains key to the process. With this kind of mutually beneficial relationship, the iPhone app may be just the beginning of a more extensive rollout of suites and a move into other countries before too long.