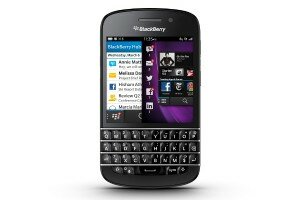 Vodacom has announced the new BlackBerry Q10 smartphone will be available to South African customers from Thursday, May 2.
The smartphone, powered by BlackBerry 10, will be available from Vodacom World and other participating outlets, at a recommended retail price of ZAR8,999 (US$987).
New contract customers will receive unlimited BlackBerry Messenger (BBM) texting and file sharing for 24 months, valued at ZAR19 (US$2) per month, while also doubling their data for the first two months of the contract.
"The re-designed, re-engineered and re-invented BlackBerry 10 platform offers a powerful and unique new mobile computing experience," a statement from Vodacom read. "It gives customers a faster and smarter experience that continuously adapts to their needs. Every feature, every gesture, and every detail is designed to keep customers moving forward towards their goals."