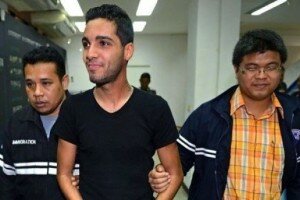 http://www.rawstory.com
Hamza Bendelladj, a 24-year-old alleged hacker has been arrested by police in Thailand and has been on the United States Federal Bureau of Investigation's (FBI) for three years.
It is claimed the Algerian has made millions of dollars from cyber crime and was arrested after a tip-off from the FBI to police in Thailand as he was in transit from Malaysia through Bangkok's Suvarnabhumi Airport.

His warrant of arrest was issued by a court in the US State of Georgia where he will now be extradited.

Thailand Police Lieutenant General Pharnu said: "We were tipped off to his arrival by the FBI, who have been following his case for the past three years.

"With just one transaction he could earn 10 to 20 million (US) dollars." Pharnu added: "He's been travelling the world flying first class and living a life of luxury."
At the press conference after his arrest, Pharnu continued to explain how Bendelladj allegedly hacked private accounts of 217 banks and financial services companies globally in the process amassing "huge amounts".
The Thai police also stated his main tools for hacking were a satellite phone and notebook computer.

Showing no remorse after his arrest and during the press conference, Bendelladj could be seen smiling and continued to deny accusations by the Thai police that he was on the "FBI's top-10 most wanted list".

"I'm not in the top 10, maybe just 20th or 50th," the Algerian suspect said with a laugh. "I am not a terrorist."

He graduated in computer sciences in his country of birth, Algeria, in 2008.