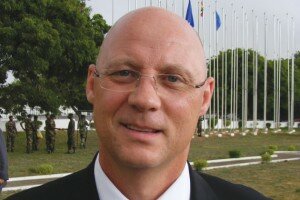 Photo: Brett Goschen, CEO at MTN Nigeria | ghanabizmedia.com
MTN Nigeria signed loan agreements yesterday in Lagos to the value of NGN470 billion (US$3 billion) for countrywide infrastructure improvement.
The loan agreements were signed with banks including Zenith Bank Plc, First Bank of Nigeria Limited and Fidelity Bank Plc with N26.25 billion.
According to Brett Goschen, chief executive officer (CEO) of MTN, the loan signifies partnerships between the telecommunication and financial industries in Nigeria for enhanced services.
"The restructured and additional facilities will enable us to continue with the aggressive investment in our network," Goschen said, as reported by Punch.
The agreements represent the sixth strategic partnership, following collaborations with 15 local financial institutions in 2010 for funds amounting to US$2 billion – the largest corporate financial deal in sub-Saharan Africa, earning the Trade Finance Magazine's Trade Finance Deal of the Year.
Previous deals of similar nature included the US$170 million commercial paper facility in 2002 and a medium term facility of US$395 million in 2003.
"The essence of these deals was to enable MTN to make the necessary capital investments to expand our network infrastructure and meet the growing demands of our customer base," he said.
With more than 50 million subscribers in Africa and 85 per cent network coverage in Nigeria, the company is confident about its growth.
Determined to enhance service further, the operator deems higher penetration, economic growth, lower rates and better data services as factors for improvement.