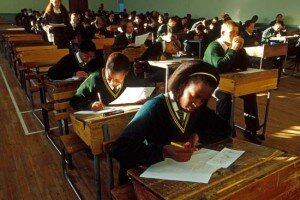 globalgoodgroup.com
In response to widely publicised textbook shortages across South Africa, the country has seen a surge in private organisations trying to address the issue. While some appear to be truly altruistic in their endeavours, it is possible that others see the problem as a profit-making opportunity.
HumanIPO recently featured an interview with Siyavula founder Mark Horner. As a social enterprise, Siyavula argues for open copyright licenses on all educational materials, and makes all the publications available on their own platform free to download.
In this way, Siyavula hopes to facilitate universal access to quality educational materials for both educators and students across South Africa – acknowledging the financial difficulties influencing the education of young South Africans, particularly in rural areas.
Apple in Education – the educational branch of the tech titan – also plans to launch a digital textbook application, apparently to facilitate the dissemination of educational materials around the country and improve the educational experience. However, in this instance, accessing the textbooks will be subject to a fee.
While the financial motivations behind business initiatives are well-known, it is still somewhat disappointing that a world-leading and extremely large corporation feels the need to bring exclusivity to education, and hold materials hostage subject to payment of a fee.
As goes the age-old truth, those with the ability to pay will be the ones to reap the benefits.
Of course, to Apple, ZABooks only carries financial and business implications. But to the youth of South Africa and their teachers, Apple's new application is just another obstacle to the difficult challenge of providing a quality primary and secondary education to the whole population.
Naturally, not the whole population of South Africa has access to devices that will run Apple's application. As such, some may argue that the point is moot.
Apple's new app points to an overarching and infinitely important issue. Should all entities – government and privately owned – not be responsible for ensuring access to a quality education for all young people?
Would private enterprises, particularly of the magnitude of Apple, really lose much from making educational materials free and as such potentially accessible to all?
Technological advances provide an unprecedented tool to promote education, and could be harnessed in the battle against the many misfortunes of a multitude of young African people.
Eventually, some things must be more important than pure financial gain.