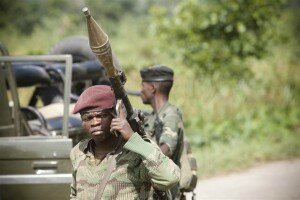 Photo credit: un.org
The social media campaign of DRC rebel group M23 has been cut short, with their Facebook Group removed from the social networking site as the group retreats from Goma.
A search on Facebook today revealed that since publication of a HumanIPO report about the M23 rebel group having a successful Facebook Group page, the page is no longer in existence.
HumanIPO recently reported an incredible spike in the number of likes the M23 rebel group was receiving via their Facebook Group page – the page boasting 6,125 at the time of reporting, up from a mere 1,600 likes merely a month before.
HumanIPO went on to debate whether or not social networking sites such as Facebook should allow mass-crime-committing groups to use social media for promotion and incitement of violence, raising important issues such as public protection and freedom of speech.
The group is now no longer visible on Facebook, terminated by either M23 members or Facebook officials.
The M23 group – named after the March 23, 2009 peace agreement between the rebel group and the government – has been following a violent campaign of murder, rape, and pillaging since April of this year as it attempts to overthrow the DRC government.
According to the 2009 peace agreement, the group was incorporated as a branch of the state-run army, but following wage and quality of accommodation disputes broke away and embarked upon a series of violent operations in the eastern part of the DRC, displacing 500,000 people and committing wide-spread crimes.
M23 had vowed most recently to march on the capital, Kinshasa, to topple President Joseph Kabila, despite condemnation of M23 actions from the United Nations and multiple regional and international governments.
However, today the rebel group has decided to withdraw from its stronghold of Goma in the interests of peace, the move reportedly attributable to discussions held between the Ugandan President and leaders of M23.