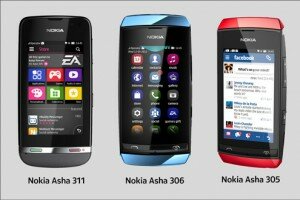 moremag.pk
Mobile phone-maker Nokia seems to have found a lifeline in its Asha smartphones, its cheap smartphone models, after it described their performances as "beyond expectations".
Announcing its Q4 results last week, the company said it had sold around 9.3 million Asha smartphones, compared to 4.4 million Lumia smartphones, its higher end models.
Nokia's chief executive Stephen Elop said: "We are pleased that Q4 2012 was a solid quarter where we exceeded expectations and delivered underlying profitability in Devices & Services and record underlying profitability in Nokia Siemens Networks."
He explained that Nokia is focused on its priorities and as a result sold nearly 14 million Asha smartphones and Lumia smartphones while managing its costs efficiently.
"Nokia Siemens Networks delivered yet another very good quarter," Elop added.
The Q4 estimates were EUR 3.9 billion (US$5.2 billion) with the total number of devices sold standing at 86.3 million units. Out of this, mobile phones netted sales of approximately EUR 2.5 billion (US$3.3 billion), with total volumes of 79.6 million units sold.
Total smartphone volumes of 15.9 million units composed of 9.3 million Asha full touch smartphones, 4.4 million Lumia smartphones and 2.2 million Symbian smartphones.
Some observers say the new report is proof that Nokia has found a new lifeline with its cheap Nokia Asha phones, after it had promised to penetrate the smartphone market even further with this brand while at the same time publicising its Lumia phones.
These figures come after Nokia was pipped by Samsung as the leading global mobile brand of 2012, ending Nokia's 14 years at the top.
Despite the Q4 performance, Nokia admits that Q1 for 2013 will be a seasonally weak quarter, basing this on factors such as competitive industry dynamics that it expects would continue to negatively affect the smart devices and mobile phones business units.