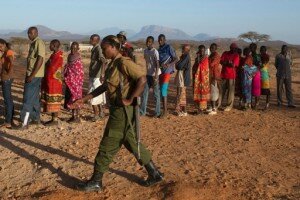 Source: http://static.euronews.com
The Kenyan election that began on Monday morning has seen numerous problems with electronic equipment, questioning the preparedness of the Independent Electoral and Boundaries Commission (IEBC) for the general poll.
System failures started as soon as the elections did, with the failure of the biometric voter registration (BVR) kits blamed on various problems including forgotten passwords.

This resulted in presiding and returning officers at various polling stations changing to manual verification, questioning the quality of the costly BVR machines supplied to the IEBC that cost Kenya KSh9 billion (US$105 million).

Apart from the BVR kits, the IEBC servers are said to have failed on Tuesday morning leading, to the slow transmission of results from the commission's headquarters in Nairobi.

It must be wondered how Safaricom, which is supporting the system, was unable to rectify the issue.

According to the IEBC, the returning officers were supposed to transmit their results via SMS through special phones. With more than 33,000 polling stations that would mean more than 33,000 SMSs.

"Legally we have seven days to announce election results, hence we are still within our boundaries. I urge Kenyans to be patient," said the IEBC chairman Isaac Hassan.

As expected, the delay has continued to fuel tension, with many people on social media smelling a rat, especially regarding the slow pace the results have trickled in.

The election has seen a bashing of the international media on various social networks since a sensational story by CNN that led to the Kenyan government demanding an apology.

Kenyans on Twitter (#KOT) had earlier marshalled social media to demand an apology from CNN through the hashtag #someonetellcnn - the second time they have done so with success
.
Many Kenyans are unsatisfied with the negative reporting by the international press, with many believing they are only there to report violence.

Two posts from Kenyans on Facebook:

Lawrence Njenga
Please international media just go home and sleep... we shall give you peaceful results and therefore focus your energies elsewhere.There will be no bleeding for you to report.

Nyambura Wanjohi Sometimes I wonder....does it mean in news all that sells is bad news???? Evans, I agree with u totally...they r prophets of doom ofcourse....washidwe!

Overall the IEBC will be at pains to explain how the costly election has been managed so badly as Kenyans await the result eagerly.