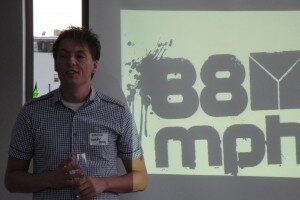 Kresten Buch, founder of 88mph, opens the Demo Day Test Drive evening | Photo: HumanIPO
Investors have acknowledged the African continent's growing global potential as six tech startups pitched at a Demo Day Test Drive hosted by startup accelerator 88mph in Cape Town, South Africa last night (Monday).
Attended by various international and local investors, the event served as a pitching rehearsal for the official 88mph Demo Day that will take place on Thursday, April 25, in Woodstock.
Investors included members from the eVentures Africa (eVa) Fund and 4Di Capital, who are both in partnership with 88mph.
According to Neil Emerick, co-owner and technical force at NightsBridge, "Cape Town is becoming like a bit of an ihub... [as] an IT destination".
Emerick is specifically interested in ideas and innovation, which he believes will elevate the African market within 10 to 15 years to a global competent level as all the parts of the industry "fit into the jigsaw" through connecting people in partnerships.
Claus Weye, a partner at Denmark-based The Consulting Firm, came to look for entrepreneurial inspiration as he plans to re-educate corporate executives on entrepreneurship in his home country.
According to Erik Aeyelts Averink, an eVA Fund investor from Netherlands, the online industry in general has potential to raise African businesses to the same platform as international players, "to put them on the same map as in Europe".
Like many other attendees, Vincent Kouwenhoven, founder of the eVA Fund, is "impressed by the proposition," referring to African potential which he believes needs three to eight years of growth to be on competitive level with the international industry.
Speaking to HumanIPO, German exploring investor Peter Cullen, said: "Africa is a very aspiring place with lots of obstacles…[as the] fastest growing continent."
David Campey, founder at Information Logistics, explained his belief in the potential of the selected startups: "They bridge a gap that exists and solve a problem of society."
He mentioned online payment startup Peach Payments and property startup The Massive as examples of young businesses with international potential.
"Never waste a drop of talent," Campey believes.
Other startups which also pitched at the event are building solution Near a Builder, mobile taxi service Zapacab, online financing business ApexPeak, electricity monitoring service Homebug and online mapping service Easy2map.
Selected startups have been mentored over a period of three months through the 88mph startup program in Woodstock, South Africa.
Justin Stanford, chief executive officer at 4Di Capital, told HumanIPO: "88mph has done a fantastic job."
Google for Entrepreneurs are also a partner of 88mph.